ACADEMY AWARDS - OSCARS   FEBRUARY 24, 2008

Horticultural Stock Photography, Design and Printing Service for Full Color Business Cards and Postcards, Seasonal Photo Greeting Cards, Event Photography and Oscars Pre-Event Coverage, Celebrities' Charities


WOLFGANG PUCK
AND
THE GOVERNORS BALL ROOM DECOR 
Page 2, 1
Copyright 1999-2009 4seasons Photography. All rights reserved.

80th Oscars Anniverary - Red & Gold

This year's Governors Ball will feature a color palette derived from two of its most recognizable icons: The Red Carpet and the Gold Oscar statue. We will use these two colors fearlessly.

Infused with shades of rich gold and red, augmented by mirrored treatments framed in accents of black, the atmosphere of this year's Ball will become a setting for elegance and contemporary glamour.

Layout

The ballroom will feature a raised orchestral stage surrounded by the ballroom's multi-leveled floor plan to allow for greater views of the orchestra as well as the entire room.

Both the north and south balconies will afford comfort and style with creamy low lit atmospheres and slick, chic furniture. Mirrored bars with tufted fabric bases will complete the décor.

Photographer was on assignment for "German World Magazine" - All photos taken with prof. equipment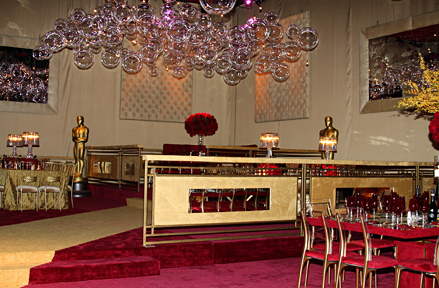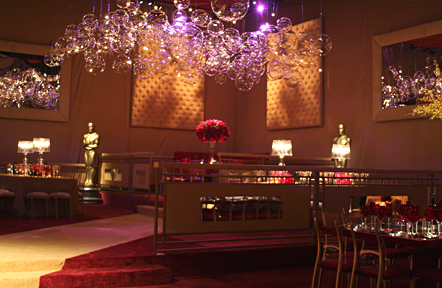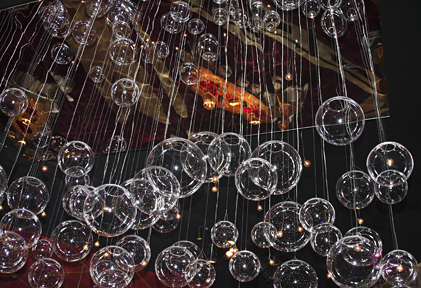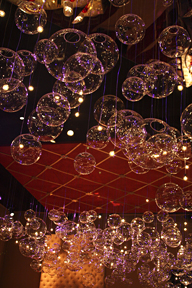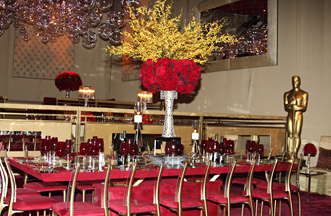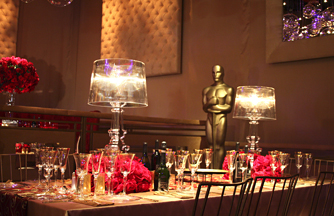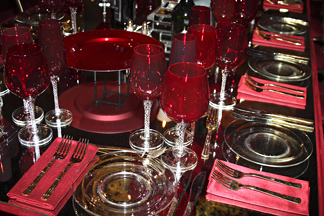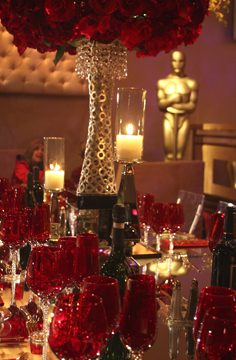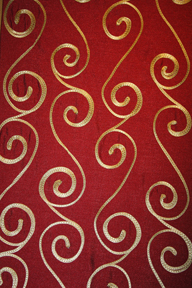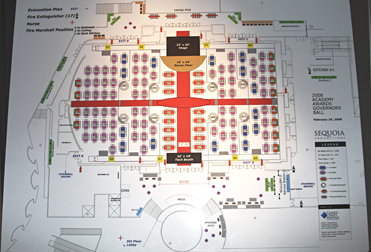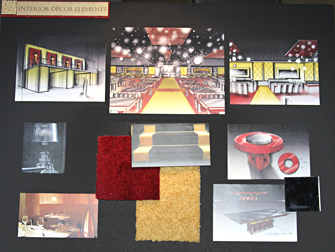 Ceiling

Delicate clouds of glass bubbles and firefly lights will gracefully float above.

Carpet

Red carpet with gold runners and a gold inlay.

Fabric Treatments

An accessorized array of tables will divide the room into sections, each with its own distinct personality. Contrasting sections will compliment the other with seductive charm and create an easy, graceful flow throughout the room. Nine diverse sections are created by using a variation of contrasting tabletops i.e. fabric, flowers which will give each are its own dining experience.

Wall & Railing Treatments

Tufted wall surfaces accented by mirrors serve a two fold purpose. The mirrors create the illusion of expanded space while inducing a surreal effect of light and imagery that not only accents the color and textures of the decor but reflect a sweeping bejeweled elegance throughout the room.

The mirror treatment will be incorporated throughout the room.

The tufted and mirrored walls and railings will add a three dimensional aspect to the space while the gold velvet chairs and the various table styles will serve to break up the room giving it a more sophisticated elegance.

South Balcony

The balcony treatments will feature bold colors and texture patterns that will create a subtle dramatic edge. Gold ultra suede banquettes with symmetrically placed red candles and mini-florals accented by red chandeliers will create the most inviting lounge atmosphere and will complete the outdoor setting.

Entertainment

Pink Martini! "Pink Martini is like a romantic Hollywood musical of the 1940s or 1950s but with a global perspective which is modern." Pink Martini will alternate with Jason Bentley, the world renowned music stylist and radio host.

A night to experience and remember!

Table Variations

As stated, the sections within the ballroom will be defined by a combination of the elegant tablecloths, cutlery, china, florals, table lamps and chairs. Each will emanate its own sense of style.

The tables will vary from beautiful mirrored tabletops accented with deep red china and florals to gold draped tables topped with exquisite accents and Kartell lamps.

15 YEARS OF PHOTOGRAPHY AND DESIGN EXPERIENCE