ACADEMY AWARDS - OSCARS   FEBRUARY 24, 2008

Horticultural Stock Photography, Design and Printing Service for Full Color Business Cards and Postcards, Seasonal Photo Greeting Cards, Event Photography and Oscars Pre-Event Coverage, Celebrities' Charities


WOLFGANG PUCK
AND
THE GOVERNORS BALL ROOM DECOR 
Page 1, 2
Copyright 1999-2009 4seasons Photography. All rights reserved.

Even after 14 years, Puck's excitement to create a lavish feast is clearly visible. He enthusiastically declares, that like a musician writing songs or a filmmaker making movies, he tries to create new and special dishes each year.

The menu created by Puck and chefs Lee Hefter and Matt Bencivenga will feature several Ball favorites, including Mini Kobe Burgers on Brioche with Sweet Pickles, Smoked Salmon Pizza, Tuna Cones and Tuna Tartare with Wasabi Aioli on Togarashi Toast and Chef Sherry Yard's 24K gold-dusted chocolate Oscars®.

A special treat and a perfect example of "Refined Simplicity" would be the Baked Potatoes with Caviar, or the popular Maccaroni & Cheese mixed with Black Truffles, which, according to Puck, is a favorite with Barbra Streisand. Various Salads and little Desserts complete this year's Oscar menu.

Working in a state-of-the-art kitchen adjacent to the Grand Ballroom at the Hollywood & Highland Center®, Puck will lead a team of chefs, pastry chefs and culinary artists who will be responsible for the cooking, presentation and execution of the menu. "In keeping with the grandeur of the festivities, we hand-select our staff and begin training months prior to the big event to ensure a flawless outcome," said Carl Schuster, CEO of Wolfgang Puck Catering.

Ingredients are of highest and finest quality and products are locally grown, sustainable and organic. Wolfgang Pucks Nine Point Program is exemplary:

1. Only use and serve eggs from cage-free hens not confined to battery cages.

2. Only serve all-natural or organic crate-free pork - Crates prevent pigs from turning around.

3. Only serve all-natural or organic crate-free veal - Crates prevent calves from turning or walking.

4. Only serve certified sustainable seafood.

5. Eliminate foie gras from its menus. Force feeding swells ducks' livers up to 10 times their normal size.

6. Only serve all-natural or organic chicken and turkey meat from farms that are compliant with

   progressive animal welfare standards.

7. Continue to feature and expand certified organic selections on all menus.

8. Continue to offer and expand vegetarian selections on all menus.

9. Send a letter to suppliers regarding methods of poultry slaughter that involve less suffering.

For example: Puck's famous Kobe Beef comes from the Snake River Farms in Idaho, a specialty farm with strict regulations and where cattle is under constant surveillance. This Kobe Beef is a cross of the Japanese Wagyu cattle and American black or red angus which gives it its unique taste.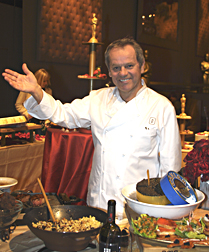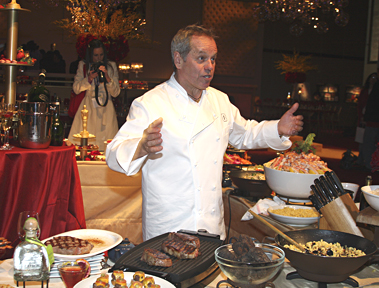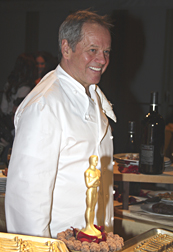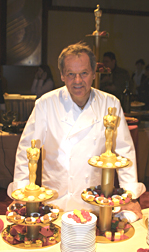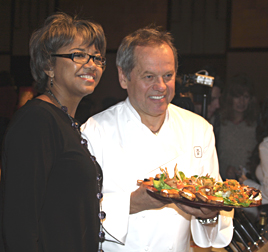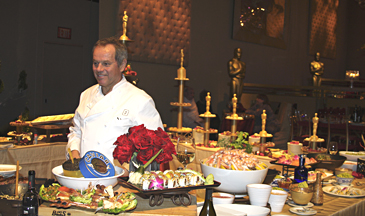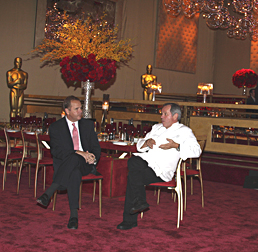 Chef Wolfgang Puck is always willing to share his "secrets"

and give us a glimpse into his culinary world.

Chair of the Governors Ball Committee Cheryl Boone Isaacs

(center) enjoys a few exquisite samples from the celebrity chef..

Sweet Oscar!

Wolfgang Puck and his team have created 1,600 24K gold-dusted

Chocolate Oscars for the occasion.

"This way everybody goes home with an Oscar", Puck explains.

1  Black Truffle Macaroni and Cheese

2  Appetizer Platter

3  Snake River Farms Wagyu Beef

4  Shrimp, Oysters, and Crab

   Cocktail Sauce, Mustard Sauce,

   Mignonette

5  Smoked Salmon Pizza is

   an Oscar special and only

   created for this event.

6  Spicy Tuna in Sesame Miso Cone

7  Sushi Station

8  Sushi Station

9  Cilantro and Jalapeño Scallop

   with Tomato, Orange, and Chili

   (not sure if the description

   matches this particular picture)

10 Aperitif / Bar

Refined Simplicity!

For the 14th consecutive year, master chef Wolfgang Puck has been selected by the Academy of Motion Picture Arts and Sciences to create the menu for the Governors Ball, the celebration immediately following the 80th Academy Awards® presentation.

"The Governors Ball is a singular event, and the food must be of equal caliber. Our menu will feature locally grown, sustainable and organic ingredients, providing guests with a culinary experience that will please even the most discerning of palates," said Puck. When asked, what he considered to be the biggest challenge during this event, Puck replies: "Serving everyone in a timely manner".

Wolfgang Puck Catering will be serving the Academy's 1,500 Ball guests, which will include Oscar® winners, nominees, presenters and telecast participants.

Each year, all cooked foods remaining after the event will be distributed among the homeless in Los Angeles by "Meals on Wheels".

Wolfgang Puck Catering, established in 1998, moved to its permanent home in the Hollywood & Highland Center in November 2001. The Wolfgang Puck Companies  which comprise 14 fine dining restaurants, more than 80 Gourmet Express fast-casual restaurants, premium catering services in over 32 exclusive venues nationwide, and quality kitchen and food merchandise  constitute a brand standing for a culinary passion for eating and dining

It's the 80th Oscar celebration and so the theme for both the food and decor is about making the simple things fabulous.

Puck takes a well-deserved break after

answering hundreds of questions from the

media from around the world.

Surrounded by delicious and mouthwatering goodies

Chef Wolfgang Puck with some of his creations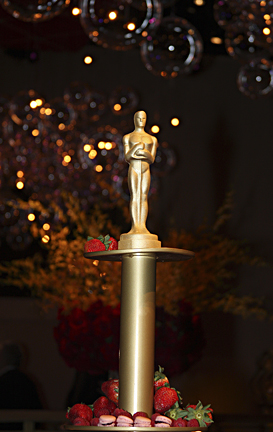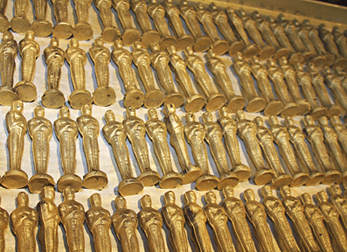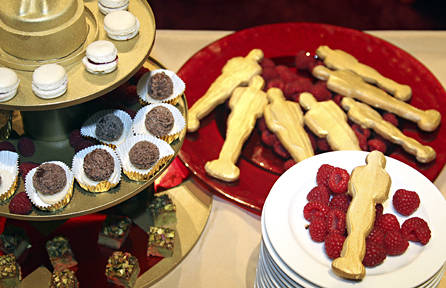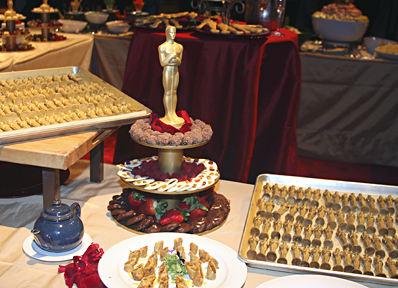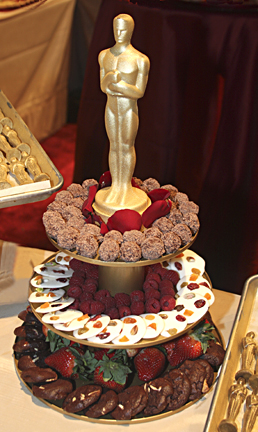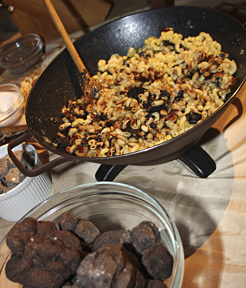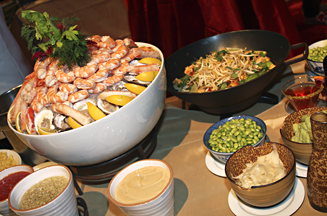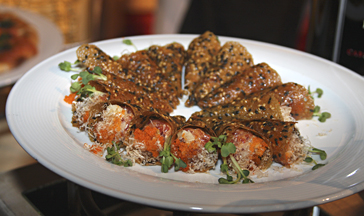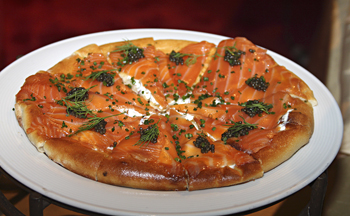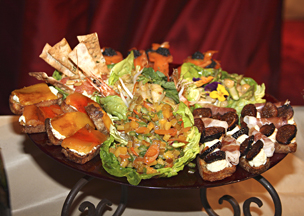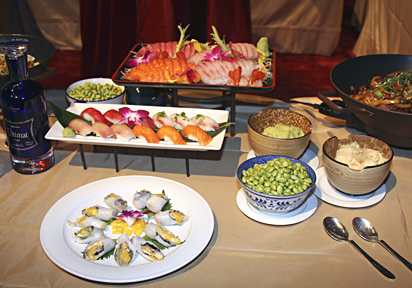 by SEQUOIA PRODUCTIONS & Wolfgang Puck Catering

* 1,500 Guests

* 900 Staff On-Site

* 350 Culinary Staff

* 150 Technicians

* 14 Musicians

* 1 DJ

* 10,000 Pieces of Cutlery

* 528 Bottles of Laurent Perrier Champagne

* 1,428 Bottles of Sterling Wine

* ½ Mile of Truss

* 200 Leko Lights

* 20 Automated Lights

* 1/4 Mile of Rope Lights

* 6 Miles of Cable

* 30,000 Square Feet of Fabric on Ceiling

* 3,000 Zip Ties to Tie the Fabric to the Truss

* 1,675 Floating Transparent Globes to Hang from Ceiling

* 20,000 ft of Cable to Secure Floating Transp. Globes

* 1,000 Firefly Lights

* 15 Shades of Red Roses Shipped from Columbia + Ecuador

* 15,000 Roses

* 40 People to Assemble and Deliver Flowers

* All Seafood is Sustainable by Seafood Savvy

* All Meat is natural, Growth- and Hormone-Free

* All Chicken is Certified Organic

* 300 lbs of Wild Caught Salmon

* 1200 lbs of Spiny Lobster

* 10 lbs Fresh Farm Raised Tsar Nicoulai Osetra Caviar

* 18 lbs Black Winter Truffles from Burgundy

* 15 Whole Yellowtails

* 150 lbs of Albacore Tuna

* 1200 Kumamoto Oysters

* 100 lbs Black Farm Raised Mussels

* 150 lbs Farm raised littleneck Clams

* 550 lbs Snake River farms Wagyu Beef (U.S. Kobe)

* 480 Antipasti Platters

* 3500 lbs of Alaskan Wild Salmon

* 12 Gallons of Crème Fraiche

* 10 Gallons of Citrus Chili Dressing

* 7200 Individual Pink Shrimp from Oregon

* 20 lbs of Holy Basil

* 3000 Black Mission Figs

* 100 lbs of Laura Chenel Goat Cheese

* 80 lbs Organic La Quercia Prosciutto Americano

* 30 Cases of California Eggplant

* 3060 Wood Fired Flat Bread slices

* 4800 lbs California Grown Organic Asparagus

* 100 lbs of Chickpea Salad

* 10 Gallons of Mustard Vinaigrette

* 200 lbs of Carnaroli Risotto

* 150 lbs of Chinese Broccoli

* 75 lbs of Shiitake Mushrooms

* 200 lbs of Sticky Rice

* 190 lbs of Bay Scallops

* 250 lbs of Wild Black Bass

* 25 Gallons of Cocktail Sauce

* 2000 Sesame Miso Cones

* 5000 Hand Cracked Eggs

* 400 lbs of Organic Montana Wheat Flour

* 400 lbs of Florida Crystal Organic Sugar

* 16 lbs of Tahitian Vanilla

* 425 lbs of Valrhona Organic Chocolate

* 200 lbs of Short Lo Mein Noodles

* 100 lbs of Tofu

* 15 Gallons of Plum Ginger Sauce

* 400 Mangoes

* 800 Roma Tomatoes

* 3 Months of Menu Testing, Planning, Preparation

* 4 Days of Preparation

* 1 Lifetime of Happiness

Antipasti Platter

Smoked Salmon Oscars® with Caviar and Crème Fraîche

Roasted Root Vegetable Salad with Citrus Chili Dressing

Thai Spiced Shrimp with Holy Basil and Candied Garlic

Bruschetta of Figs, Goat Cheese and Organic Prosciutto

Smoked Eggplant with Toasted Flatbread

Asparagus and Chickpea Salad with Mustard Vinaigrette

Butlered Course

Gold Foil Wrapped Baked Yukon Gold with

Tsar Nicoulai Caviar and Crème Fraiche

Entrée

Snake River Farms Wagyu Beef with

Chinese Broccoli

Shiitake Stir-Fry with Red Wine Sauce

Black Truffle Macaroni and Cheese

Vegetable Entrée

Roasted Winter Vegetables wrapped in Leeks

Black Olive Couscous and Tomato and Radish Compote

Dessert

Sherry Yard's Oscar® Tribute

RECEPTION STATION

Sushi Station

Maki Rolls: Spicy Tuna, Sweet Shrimp, Crab, Vegetable

Nigiri: Tuna, Sweet Shrimp, Yellowtail, Salmon, Snapper

Sashimi: Tuna, Yellowtail, Salmon, Edamame, Snapper

Cucumber Salad, Wasabi, Soy and Pickled Ginger

Noodle Station

Pad Thai Noodles with Tofu, Egg, Bean Sprouts,

Thai Basil, Mint and Peanuts

Short Lo Mein Noodles with Pork, Scallions,

Sweet Peppers and Plum Ginger Sauce

Ceviche Station

Shrimp with Mango, Basil, Golden Tomatoes and

Habanero Sea Bass with Avocado, Tomatillo,

Cilantro and Jalapeño Scallop with Tomato,

Orange, and Chili

Shellfish Station

Shrimp, Oysters, and Crab

Cocktail Sauce, Mustard Sauce and Mignonette

Tray Passed

Spicy Tuna in Sesame Miso Cone; Mini Kobe

Cheeseburgers with Remoulade; Tomato Goat

Cheese Tart; Miso-Glazed Black Cod on

Rice Cracker; Cucumbers and Smoked Salmon,

Steak Tartare Crostini, Spicy Chicken Mango Rice

Paper Rolls, Vegetable Spring Rolls, Assorted Pizzas

Photographer was on assignment for "German World Magazine" - All photos taken with prof. equipment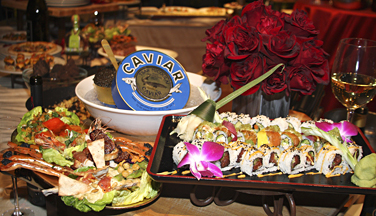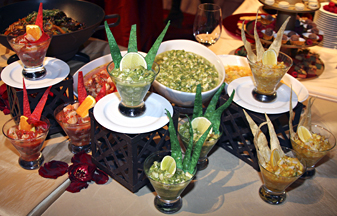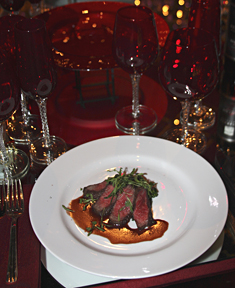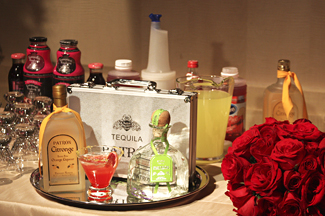 Samples from the

Governors Ball Menu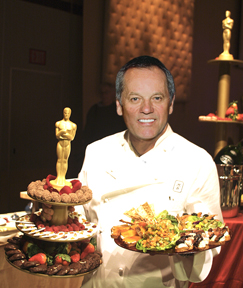 15 YEARS OF PHOTOGRAPHY AND DESIGN EXPERIENCE