Premiere

"Ocean's Twelve" in Hollywood

December 8, 2004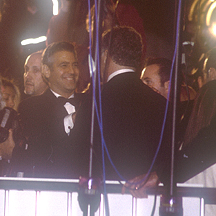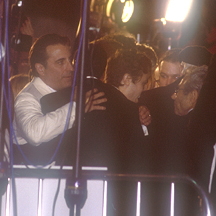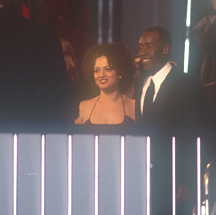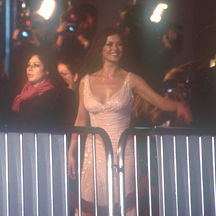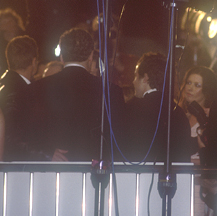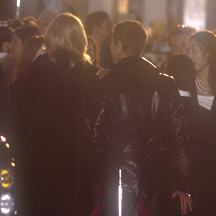 Andy Garcia and a glimpse of Matt Damon (right back)

Don Cheadle & Bridgid Coulter

Brad Pitt (far left) and Catherine Zeta-Jones (far right)

Brad Pitt walking into the Theater

A Photographer's worst Nightmare

The Premiere of "Ocean's Twelve" - I didn't want to miss this spectacle for anything in the world and since the media section had filled up already weeks ago, I tried to get a glimpse of the stars from the audience section. Four hours early, armed with my camera, super zoom lens, flash, power pack and extra batteries, I secured myself a decent spot (or so I thought). Hundreds of people awaited the arrival of the limousines while freezing and shivering on this cold December evening.

I kept checking on my equipment to make sure, the batteries wouldn't die on me, because of the cold. As it got darker, I struggled finding a decent camera angle, because the bright lights along the red carpet kept interfering with my view.

Then suddenly, major hysteria from my section! Brad Pitt came dashing around the corner in a private SUV - the opposite direction of where celebrities were supposed to start their long walk on the red carpet. Needless to say, the crowd went wild, when Brad decided to actually get up close and personal with his fans. The animal-like screeching screams would have probably been enough to blow up any sound system.

By the time George Clooney and Matt Damon arrived on the scene you needed earplugs to avoid permanent damage to your hearing.

It was a crazy, but extremely energizing and electrifying atmosphere - maybe even enough to cause a short in my flash!!! Yeap, only minutes into the event, a horrible odor coming from my flash told me, that something must be burning. The camera readings went crazy and I wasn't able to take a single decent picture (as you can see below). I could not believe it - Here I was, at the greatest, most star-studded premiere, and my equipment failed on me (due to a leaking battery, as it turns out later). What a nightmare!!!

Lesson learned the hard way: Always bring an extra set of equipment!


Copyright 1999-2009 4seasons Photography. All rights reserved.

Photographer was not on assignment - All photos taken for private use with defective camera