ACADEMY AWARDS - OSCARS   FEBRUARY 22, 2009

Horticultural Stock Photography, Design and Printing Service for Full Color Business Cards and Postcards, Seasonal Photo Greeting Cards, Event Photography and Oscars Pre-Event Coverage, Celebrities' Charities


WOLFGANG PUCK
AND
THE GOVERNORS BALL ROOM DECOR 
Page 1, 2
Copyright 1999-2009 4seasons Photography. All rights reserved.

East meets West

For the 15th consecutive year, master chef Wolfgang Puck has been selected by the Academy of Motion Picture Arts and Sciences to create the menu for the Governors Ball, the celebration immediately following the 81st Academy Awards presentation.

"The Governors Ball is the highlight

of the season," said Puck. "Our menu will have star-quality ingredients each dish showcasing the essence of seasonal flavor.

With locally grown, sustainable and organic ingredients, guests

will enjoy an award-worthy culinary experience."

Wolfgang Puck Catering will be

serving the Academy's 1,500 Ball guests, which will include Oscar winners, nominees, presenters and telecast participants.

The menu created by Puck and chefs Lee Hefter and Matt Bencivenga will feature several Ball favorites, including Tuna Tartare in Sesame Miso Cones; Chopped Chino Farms Vegetable Salad with Ginger Soy Vinaigrette, Maine Lobster and Caviar; and Pastry Chef Sherry Yard's gold-dusted chocolate Oscars.

Working in a state-of-the-art kitchen adjacent to the Grand Ballroom at the Hollywood & Highland Center, Puck will lead a team of chefs, pastry chefs and culinary artists who will be responsible for the cooking, presen-tation and execution of the menu.

Wolfgang Puck Catering, established in 1998, provides restaurant-quality catering and operates premiere cultural, corporate and entertainment settings in thirteen markets across the country. The Wolfgang Puck Companies constitute a brand standing for a culinary passion for eating and dining well.

Want to cook like the chef?

Visit his website
WolfgangPuck.com
  where you will find dozens of his famous and popular recipes!
A big brother for the

already very popular

small gold-dusted

chocolate Oscar.

Pastry Chef Sherry Yard presents a large 24K gold-dusted chocolate Oscar.

The smaller version was originally created so EVERYBODY would go home with an Oscar.

Chef Wolfgang Puck in his element - surrounded by the most delicious culinary creations

by SEQUOIA PRODUCTIONS & Wolfgang Puck Catering

- 1500 Guests

- 900 Staff

- 250 Culinary Staff

- 150 Technicians

- 18 Musicians with Back-up Singers

- 1 Song Stylist

- 500 Pounds of Wild Caught Salmon

- 1200 Pounds of Maine Lobster

- 15 Pounds of Caviar

- 15 Whole Yellowtail

- 150 Pounds of Sushi Grade Albacore Tuna

- 1200 Oysters

- 7200 Individual Shrimp

- 1000 Pounds of Natural Beef Short Ribs

- 3060 Wood Fired Oscar Shaped Flat Bread

- 500 Pounds of Italian Arborio Rice

- 10 Pounds of Black Winter Truffles

- 75 Pounds of Shiitake Mushrooms

- 200 Pounds of Sticky Rice

- 25 Gallons of Cocktail Sauce

- 12 Gallons of Ginger White Soy Vinaigrette

- 2000 Sesame Miso Cones

- 5000 Cage-Free Eggs

- 12 Gallons of Crème Fraiche

- 400 Pounds of Organic Montana Wheat Flour

- 16 Pounds of Tahitian Vanilla

- 400 Pounds of Florida Crystal Organic Sugar

- 425 Pounds of Valrhona Organic Chocolate

- 15 Pounds of Edible Gold Dust

- 4000 Mini Chocolate Oscars

- 10,000 Pieces of Cutlery

- 1200 Bottles of Moet & Chandon Champagne

- 1512 Bottles of Sterling Wine

- ¾ Mile of Truss

- 300 Ellipsoidal, Theatrical Lighting Fixtures

- 84 LED, "Green" Theatrical Lighting Fixtures

- 20 Automated Lighting Fixtures

- 7.2 Miles of Cable

- 623 Lighting and Electrical man hours with

  1,735 years of experience

- 28,000 Square Feet of Fabric on the Ceiling

- 3,000 Zip-Ties used to attach fabric to the truss

- 6800 Square Feet of Custom Bamboo Prints

- 4200 Black Screws

- 100 Gallons of Custom Paint

- 1,680 Man hours to install décor

- Enough sheets of plywood to cover a football field

- Miniature Zen Gardens on each table

- 18 Man-made Bonsai Trees created with

  Ming Greenery and Grapevine Trunks

- Orchid Plants shipped direct from Hawaii

- Calla Lilies & Tulips shipped direct from Holland

> All Seafood is Sustainable per Seafood Savvy

> Green succulents, found in the Zen Gardens, are indigenous

  to California, and are plants that can all be sprouted

Tray Passed Hors d'Oeuvres

Mini Kobe Burgers with Aged Cheddar and Remoulade

Spicy Tuna Tartare in a Sesame Miso Cone

Wasabi Pea Crusted Crab Cake with Mango and Thai Basil

Smoked Salmon Pizza with Caviar and Dill Creme

Black Truffle and Ricotta Cheese Pizza

Vegetable Spring Rolls with Sweet and Spicy Dipping Sauce

Chicken Pot Stickers with Ginger Black Vinegar Dipping Sauce

Sushi & Seafood Station

Rolls: Tuna, Vegetable, California, Unagi

Nigiri: Shrimp, Tuna, Hamachi, Salmon

Sashimi: Tuna, Salmon, Snapper, Hamachi

Soy, Wasabi, and Pickled Ginger

Poached Shrimp, Lobster Tails, Crab Legs, Oysters, Mussels

Mustard Sauce, Cocktail Sauce, Wasabi Apple Mignonette

Dinner

Asian Vegetable Salad

with Maine Lobster, Caviar and

Ginger White Soy Vinaigrette

Smoked Salmon Oscar

Vietnamese Vegetable Spring Rolls

Bruschettas

Pumpkin Coconut Soup

with Chicken , Shrimp, Shiitake Mushrooms, and Green Onions

Slow Braised Asian Spiced Short Rib

with Spring Vegetable Risotto

Vegetarian Option

Spring Vegetable Risotto with Black Winter Truffles

Dessert

Chocolate Bento Box Surprise

Photographer was on assignment for "German World Magazine" - All photos taken with prof. equipment

15 YEARS OF PHOTOGRAPHY AND DESIGN EXPERIENCE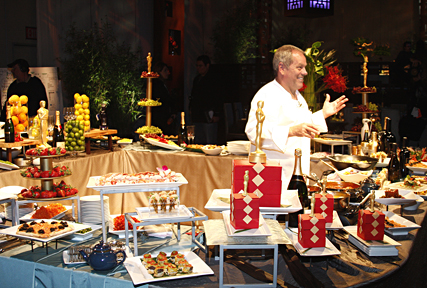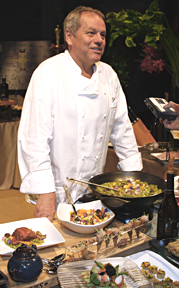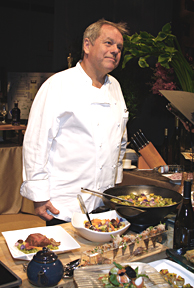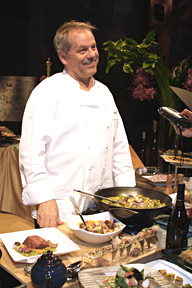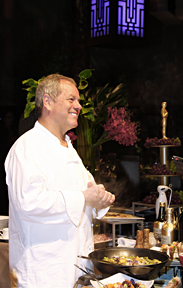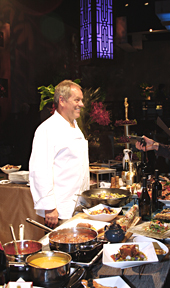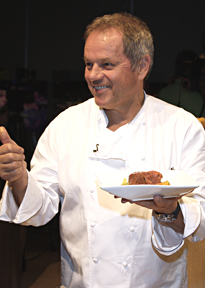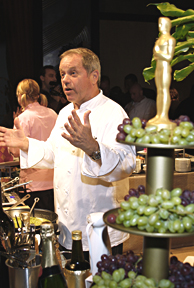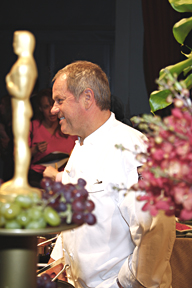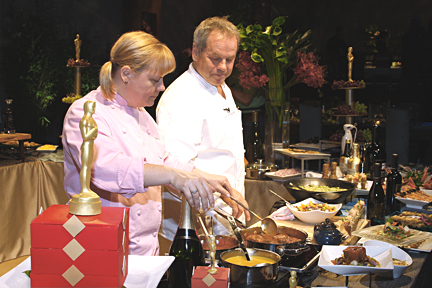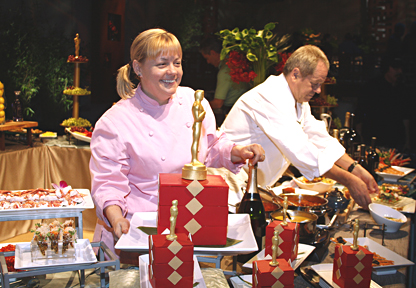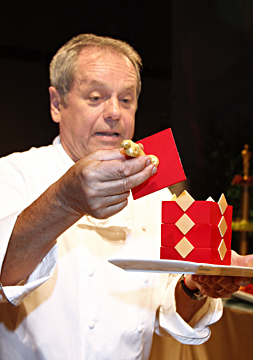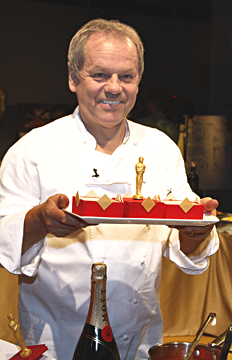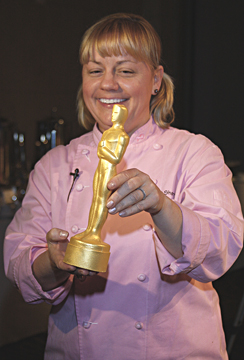 Teamwork: Master Chef Wolfgang Puck and Pastry Chef Sherry Yard

A thumbs-up from the Chef!

Wolfgang Puck enjoys chatting to the media, no matter whether it's in English, German or French.

The Bento Box Dessert

is inspired by the single-portion takeout or home-packed meal common in Japanese cuisine.

Each guest receives an edible, three-part Bento Box made entirely from Puck's own white (now colorized) chocolate. Once open, guests will find delicious surprise desserts in each of the three compartments.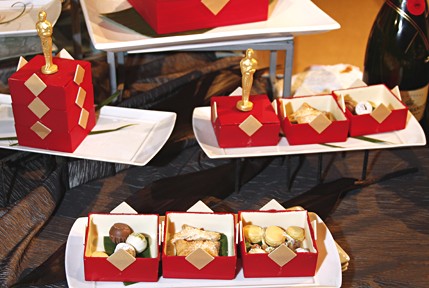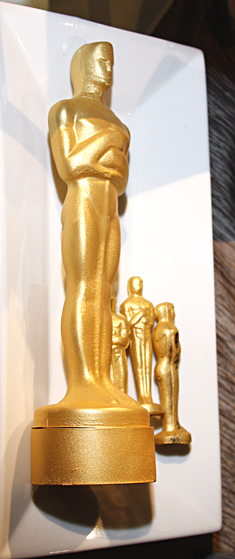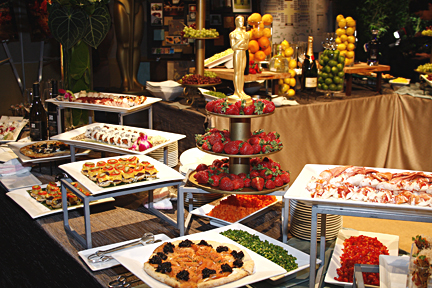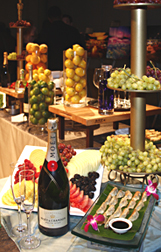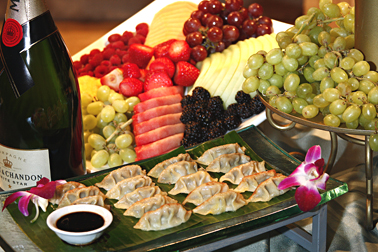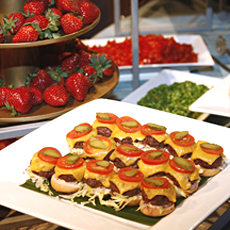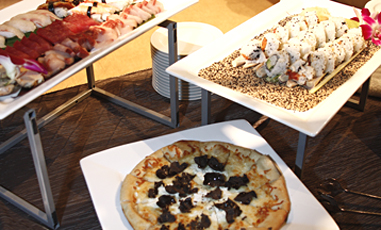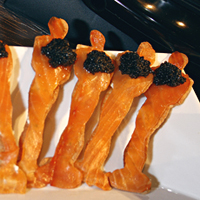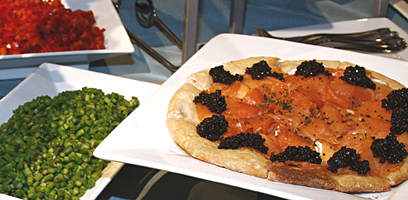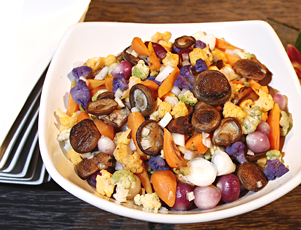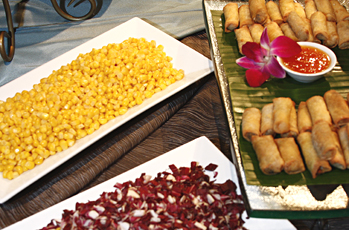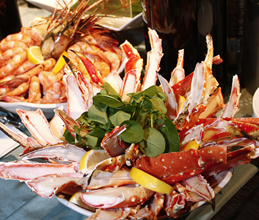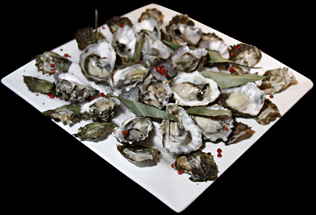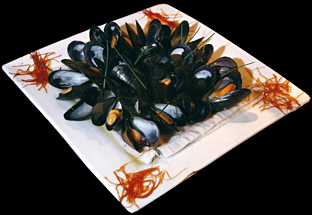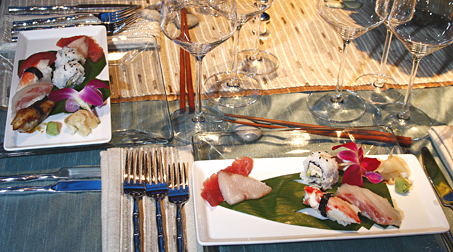 Puck recalls, that on one

occasion, actress Charlize

Theron walked into the

Governors Ball kitchen to

personally thank him for

the delicious meal.

When asked, who his

favorite celebrity customer

was, Puck responds: "Actor Michael Caine" - Caine is in the restaurant business too

and therefore recognizes

and appreciates a unique

culinary creation.