ACADEMY AWARDS - OSCARS   FEBRUARY 24, 2008

Horticultural Stock Photography, Design and Printing Service for Full Color Business Cards and Postcards, Seasonal Photo Greeting Cards, Event Photography and Oscars Pre-Event Coverage, Celebrities' Charities


BEST FOREIGN LANGUAGE FILM - WINNER AND NOMINEES

Copyright 1999-2009 4seasons Photography. All rights reserved.

"Any Art Form is trying to resemble Music

It touches you in unexplainable Ways"

Report from the Symposium coming soon

CONGRATULATIONS  ON  YOUR  OSCAR !

THE COUNTERFEITERS / DIE FAELSCHER

AUSTRIA

directed by

Stefan Ruzowitzky

CAST

Karl Markovics

August Diehl

David Striesow

Martin Brambach

August Zirner

Marie Baeumer

Photographer was on assignment for "German World Magazine" - All photos taken with prof. equipment

BEAUFORT

ISRAEL

directed by

Joseph Cedar

CAST

Oshri Cohen

Itay Tiran

Eli Eltonyo

Ohad Knoller

Itay Turgeman

Arthur Faradjev

MONGOL

KAZAKHSTAN

directed by Sergei Bodrov

CAST: Tadanobu Asano, Sun Hong Ley, Khulan Chuluun,

Ba Sen, Aliya, Amadu Mamadakov

12

RUSSIA

directed by

Nikita Mikhalkov

CAST

Sergey Makovetsky, Sergey Garmash,

Alexey Petrenko,Yuri Stoyanov,

Sergei Gazarov, Nikita Mikhalkov

KATYN

POLAND

directed by

Andrzej Wajda

CAST

Maja Ostaszewska

Artur Zmijewski

Andrzej Chyra

Jan Englert

Danuta Stenka

Pawel Malaszynski

Director Sergei Bodrov introduces

his nominated film "Mongol"

Director / Actor Nikita Mikhalkov still cannot believe that his film "12" is nominated in the Best Foreign Language Film category. He was so surprised, that he didn't even think about the distribution of his film yet.

Nikita Mikhalkov attentively listens to the many questions of reporters from around the world.

Unfortunately, director Andrzej Wajda was not able to attend Friday's photo op, but did join the other directors at the symposium on Saturday.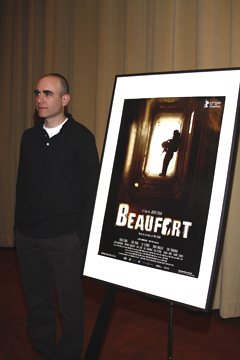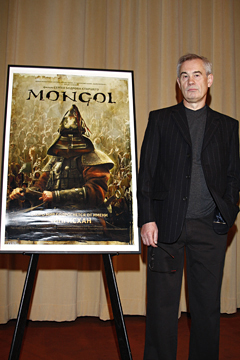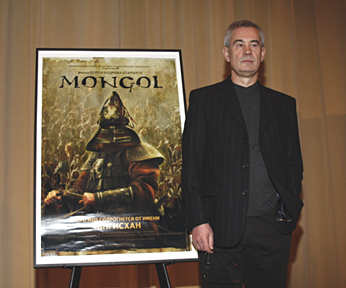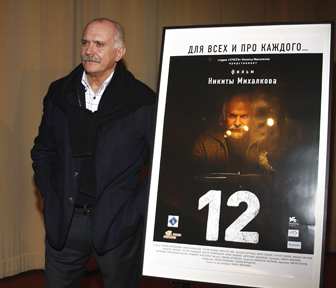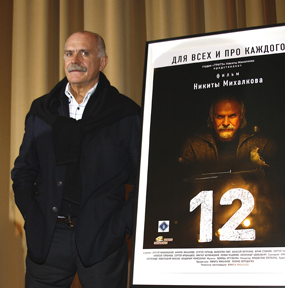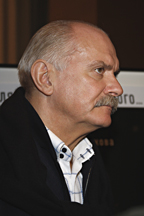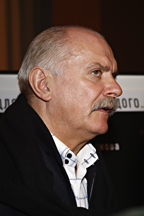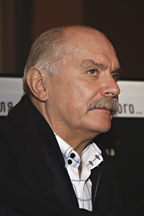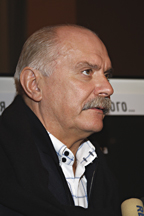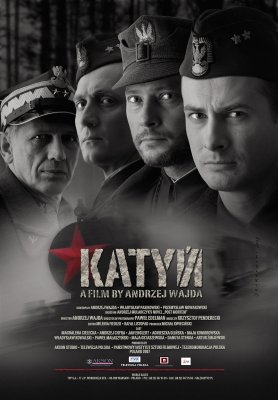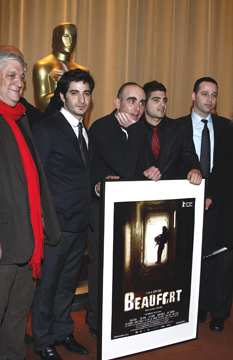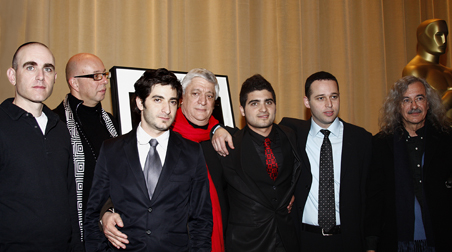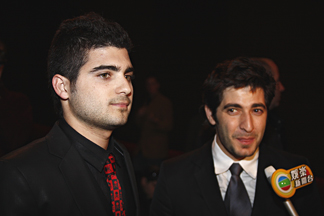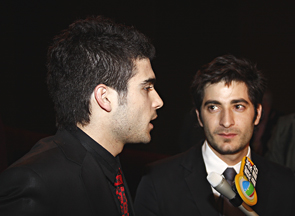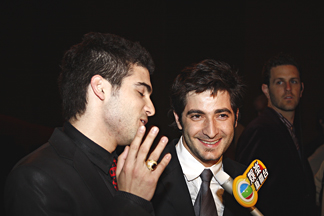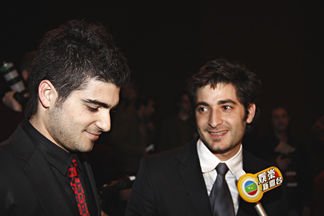 Director Joseph Cedar (left) poses with cast and crew members

Lead actor Oshri Cohen and supporting actor Itay Turgeman (?) talk to the media

Director Stefan Ruzowitzky and lead actor Karl Markovics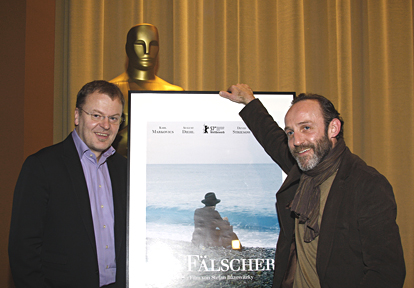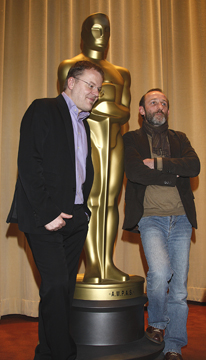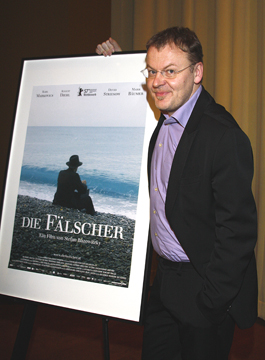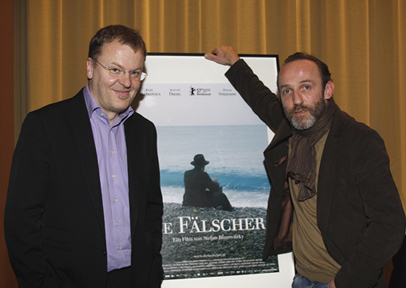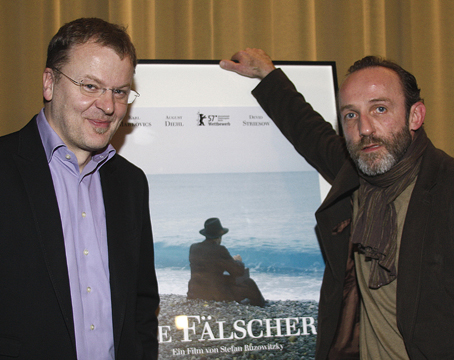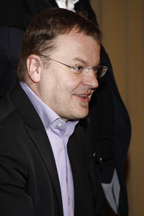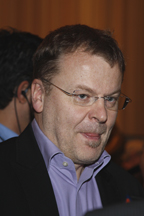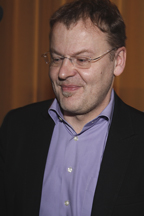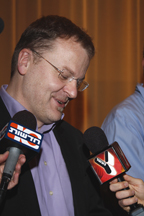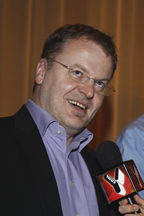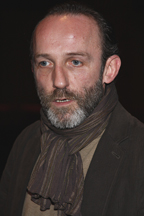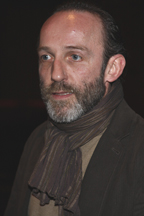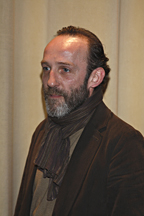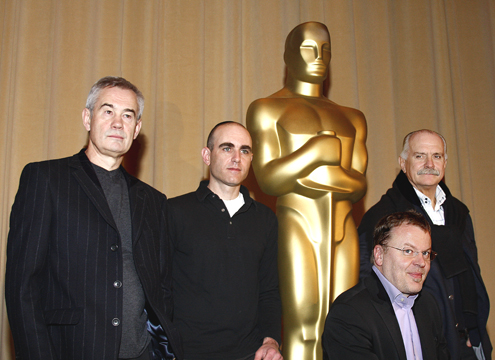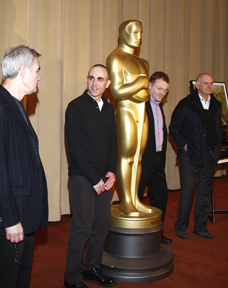 The Directors of the Oscar nominated

Best Foreign Language Films

from left to right:

Sergei Bodrov - Kazakhstan

Joseph Cedar - Israel

Stefan Ruzowitzky - Austria

Nikita Mikhalkov - Russia

Andrzej Wajda - Poland

was not able to make it in time for this event

What it's really about...

The Foreign Language Film events are my favorites of all the events during Oscars season. What fascinates and touches me most is the harmonious international collaboration of artists. Although they are competing for the Oscar, it is very clear, that these people's main interest lies in the telling of a story and not whether the film will be a blockbuster. These directors take enormous risks to make their films - not only is funding very difficult in most countries, but many films are created during times of war or experience political or social retaliations as their topics often are very controversial.

A fine example are the three pictures below. Lead actor Karl Markovics from the Austrian film "The Counterfeiters" spontaneously invited the very young supporting actor Itay Turgeman from the Israeli film "Beaufort" into the shot. Austria and Israel were considered the two front-runners in this year's Oscar race and therefore regarded as fierce competitors. However, Karl Markovics' wonderful gesture created that very special moment of unity among artists. If only the political world would follow their example...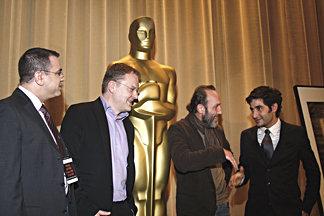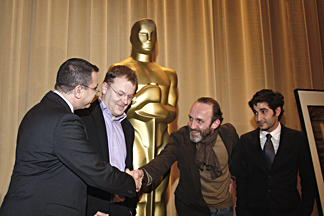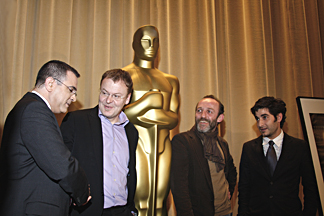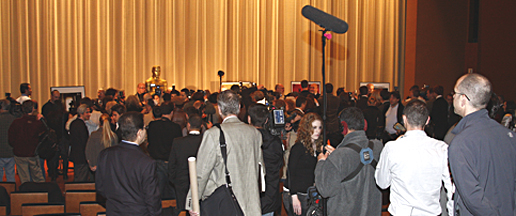 Media frenzy...

Journalists and TV stations from around the world gathered for the Foreign Language Film Award Directors Photo Op at the Academy's Linwood Dunn Theater in Hollywood. Not yet familiar with the new venue, videographers and TV crews set up their cameras in an orderly fashion behind the third row seats. Photographers were ordered to sit on the left. I was confused, because I expected the usual scene - all of us on top of each other, trying to get a good shot or interview.

Teni from AMPAS must have noticed too and announced, that this was not a press conference and that everyone was welcome to get closer to the stage, once the directors and actors of the nominated films stepped on stage. She barely finished her sentence as rows of cameras were being dismantled, tripods folded, cables rolled up and cameramen raced to the front. Within seconds Teni was surrounded by eager journalists prompting her to frantically wave her arms in the air and shout: "Not yet, guys! Wait until the directors are here!!!" We could not help but laugh at the rather bizarre scene.

Not quite sure yet,

how to deal with the

new gained fame.

Directors hesitate

to get too close

to "Oscar".

Stefan Ruzowitzky tried his best to answer the candid and straight-forward questions regarding the competition between the Austrian and the Israeli film as diplomatically as possible.

When the interviewer kept insisting on getting a more direct response, the director eventually said: "I wish them the best of luck - starting with Monday (after the Oscars)."

15 YEARS OF PHOTOGRAPHY AND DESIGN EXPERIENCE