ACADEMY AWARDS - OSCARS   FEBRUARY 25, 2007

Horticultural Stock Photography, Design and Printing Service for Full Color Business Cards and Postcards, Seasonal Photo Greeting Cards, Event Photography and Oscars Pre-Event Coverage, Celebrities' Charities


THE HOLLYWOOD CHAMBER OF COMMERCE

Fifth Annual Awards' Media Center   February 23, 2007

Copyright 1999-2009 4seasons Photography. All rights reserved.

It's the best-kept secret in town, the Hollywood Chamber of Commerce Annual Awards' Media Center event taking place at the Chamber's Headquarters on Hollywood Boulevard during the Academy Awards season! Each year, the Chamber goes through great length at organizing a two-day event that is extremely entertaining and highly informative.

"Mr. Hollywood" & Honorary Mayor of Hollywood, Johnny Grant personally welcomes visitors to this event and together with a cheerful, attentive and well-organized staff, namely Todd Lindgren (Hollywood Christmas Parade Vice President and Executive Producer), Ana Martinez-Holler (Vice President of Publicity) and Chamber President & CEO Leron Gubler, they create a wonderfully comfortable, fun and relaxed atmosphere. The Past and Present Hollywood is remembered, discussed and debated and the many conversations taking place in this creative environment inspire new ideas and collaborations.

I am especially delighted about the increasing number of staff members who have family and friends in Switzerland and who therefore welcomed the opportunity to engage in a little chat in (Swiss-) German.

Apart from being given the unique opportunity to meet representatives of various Hollywood businesses and to talk to entertainment industry insiders, guests are being treated to a delicious catered lunch and presented with an enormous selection of brochures, CDs, press kits, magazines, posters and many other useful goodies.

For more detailed information on just about any topic related to Hollywood please visit the official website of the
Hollywood Chamber of Commerce
.
Meet Paramount Studio Executive A.C. Lyles, age 89

On the job since 79 years and loving every moment of it!

Janice Hahn, Tom LaBonge and Mark Liberman

join Forces to boost Foreign Tourism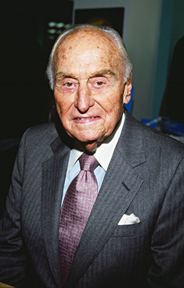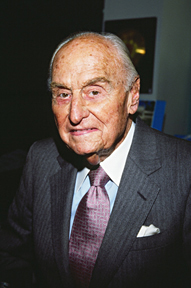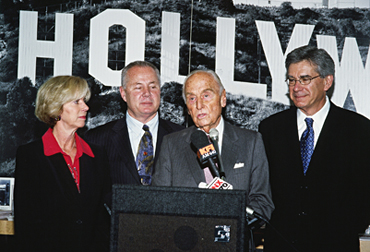 "It's a short resumé, 1928 to 2007; Paramount," says Motion Picture and Television Producer A.C. Lyles, celebrating his 79th year with Paramount Pictures. The first film he produced, "Short Cut to Hell", was directed by his good friend James Cagney and later, Lyles was the producer for "Rawhide", which made Clint Eastwood a star. Today, he is a producer on Paramount/HBO's acclaimed series "Deadwood".

Back in 1928, A.C. Lyles started working at the Paramount theater in his native Jacksonville, Florida, after seeing the film "Wings" on his 10th birthday. The film was produced by Paramount Pictures and the first film to win the Oscar for Best Picture.

"I fell in love with the picture and the people who made it. And I had a great admiration for Adolph Zukor," Lyles recalls. Zukor founded and ran Paramount Studios and was THE movie mogul at the time.

Four years later, Lyles met Zukor in person when the studio head visited the theater. Zukor told Lyles to finish high school before pursuing his Hollywood dreams and to "keep in touch". Lyles took that to heart and being determined to work at the actual Paramount Studios, he began writing letters to Zukor every week for the next four years. "My whole life was about writing Mr. Zukor every Sunday. I was quite obsessed....".

Then, one day, Gary Cooper came to Jacksonville and Lyles introduced himself to the star. Lyles told him about his weekly letters to Adolph Zukor and that he hadn't received any response yet. The star gave young A.C. a note to include in his next letter saying: I am looking forward to A.C. Lyles being with us at the studio. That led to a response from Zukor's secretary, and when she told him, that letters every two months would be fine, Lyles kept up the weekly letters and added the secretary to his correspondence list.

After graduating high school, Lyles traveled across the country with 28 Dollars in his pocket to pursue his dream of working at Paramount. "I just wanted to make movies. I didn't want to be in them." His persistence had paid off, and Zukor took him under his wings, hiring him as an office boy. Lyles quickly began making friends with as many people as possible on the lot, including Bing Crosby and Gary Cooper. "Everybody knew me because I was Mr. Zukor's office boy."

One day, Jimmy Cagney's sister, who worked at Paramount at the time, told Lyles that her brother wanted to meet him and after getting over the initial shock of being asked to meet the superstar, Lyles and Cagney became close friends. It was Jimmy Cagney, who then introduced Lyles to the man, that would become one of Lyles' best friends - Ronald Reagan. "We were so close. We were like brothers", Lyles says. In fact, Lyles has a video of Reagan saying that he was the first person who predicted that Reagan would one day become president of the United States.

At age 19 Lyles became a publicity director and over the next decade he worked on more than 70 films.

"All the big directors were trying to show me, how to become a producer", Lyles says. "I was told: Dress British, but think Yiddish!"

In 1954 he was associate producer on the movie "The Mountain", starring Spencer Tracy, and in 1957 he became a full producer on "Short Cut to Hell", starring James Cagney. He also served as associate producer on the TV series "Rawhide", which gave Clint Eastwood his breakthrough role.

Today, making pictures is a much more difficult process than it was back then, Lyles says.

"We had 140 to 145 actors under contract" he remembers, "making 55 to 60 features a year, releasing one a week. We had the talent right with us. Now we have to look outside the lot for talent."

A.C. Lyles has met just about everyone in Hollywood's Film and Television Industry. "They've all meant so much to me", he says, not just referring to the celebrities but also to the grips, electricians, security guards, and everybody else on the lot. "They all have really helped me", he adds gratefully. Lyles makes an effort to get to know as many people at the studio as humanly possible and on a set with 150 extras, he will have talked to every one of them before the day is out. "I can't go in a room and not know someone. I love people."

It was also in the 50s that Lyles married his wife, Martha. When being asked: 'How is your wife', he responds without missing a beat "Wealthy!" and to the question 'Do you have kids' his answer is "Not that I know of". Dry humor is another one of A.C. Lyles great characteristics...

Today A.C. Lyles is considered "Mr. Paramount" and serves as Paramount's ambassador, representing the company at countless functions, speaking once or twice a week at luncheons and dinners.

Just as Adolph Zukor mentored him, Lyles often gives advice to college students who work as pages on the Paramount lot. "Be the best page on the lot and we'll find you", says Lyles. "Be aggressive without being intrusive. Know that the next person you meet might change your life."

After all these years his passion for the studio remains unchanged. "Every morning when I drive on the lot, I get the same thrill and excitement as when I first came to the lot more than seven decades ago." And being asked about a possible retirement he shakes his head and says: "I don't know what I'd do - I guess I'd come here and wave my friends onto the lot."

The seasonal movie pass helps A.C. Lyles satisfy his addiction to movies and he admits watching a movie every day, on weekends even three a day. "Obsession, obsession, obsession" he concludes with a wink and a smile.

Some content inspired by John Irwin, Wikipedia and Christopher Lisotta, LA Weekly

A.C. Lyles at the Hollywood Chamber's Fifth Annual Awards' Media Center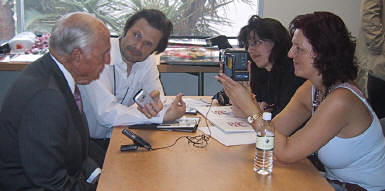 Producer A.C. Lyles surrounded by three journalists during the Media Center Event

(from left to right: A.C. Lyles, Paramount Pictures; Andreas Fuchs, Creative Cinema;

myself, German-World.com, Inc.; and London-based British filmmaker, Kathy Hill

From left to right: Council Member Janice Hahn, Fifteenth District and

Tom LaBonge, Fourth District, special guest speaker Paramount Pictures

Producer A.C. Lyles, and Mark S. Liberman, President & CEO of LA INC.,

The Convention and Visitors Bureau

The steady and drastic decline of international tourism to the United States in recent years has resulted in a council motion urging the formation of a Presidential Advisory Council on Travel and Tourism to counter this trend.

Council members Tom LaBonge and Janice Hahn made the announcement at the Hollywood Chamber of Commerce's Fifth Annual Awards' Media Center event and were joined by Mark Liberman, president and CEO of LA INC. The Los Angeles Convention and Visitors Bureau, that has expressed its support for such an effort.

A recently released study by Discover America Partnerships showed that the U.S. entry process has created a climate of fear and frustration that is turning away foreign business and leisure travelers and hurting the country's image abroad. The council members said they will work with LA INC. along with the Travel Industry Association, to ensure that Washington designs and implements a 'Visit America' international advertising campaign while it works to overhaul the U.S. visa application process.

LA INC research shows that the greater L.A. economy is closely tied to international trade and tourism, accounting for approximately $4.3 billion annually.

While tourism to the city has rebounded after 9/11, the local economy is at risk if the United States continues to experience declines in international visitors. In the past 10 years, the world travel market has seen a robust growth of 52%, a great disparity with statistics on travel for the United States.

The City of Los Angeles is furthermore eager to bring LAX International Airport up to standard, since the city considers an application for the host role of the 2016 Summer Olympics. Los Angeles made a bid to host the 2012 Olympics, but was passed over as a U.S. candidate in favor of New York City, which eventually lost out to London.

From a personal viewpoint:

Being a passionate L.A. fan since 20+ years and being involved in the hospitality business part-time half the time, it has always been my goal to provide visitors with a great L.A. experience.

But in recent years these efforts have been undermined by two main factors, which I consider the main contributors to the decline of tourism in L.A. and the U.S. in general.

1. Since 9/11 many new security procedures and changes have been introduces at airports worldwide, some being viewed as major intrusion of privacy, harrassement or even racism. Furthermore, the insulting and despicable treatment by staff members at U.S. Embassies abroad (namely Switzeland and Austria) have not helped the travel industry either. Visitors are being treated like criminals until proven otherwise.

2. Most people abroad feel, that if they travel to the U.S. and spend money in this country, they'd indirectly support the war efforts, which most of them oppose, or the current government, which most of them despise. Most people abroad are not aware of the devastating consequences this "boycott" has on the U.S. economy and on small business owners who depend on visitors and guests.

Any future ad campaign aimed at reviving international tourism should stress or strongly suggest, that the travel industry is not in any way related to the current government, and that money invested by travelers helps repair streets, maintain parks and tourist sights, and expand public transportation etc.

We need to let future visitors know that they are welcome and that we would like to introduce them to the many fascinating, exciting and fun things this city, state and country has to offer.

I often refer to LA as a huge sparkling treasure chest and that it's up to the individual to pick the gems.

I hope, that with combined efforts Los Angeles will become a preferred travel destination again soon.

Photographer was on assignment for "German World Magazine" - All photos taken with prof. equipment

15 YEARS OF PHOTOGRAPHY AND DESIGN EXPERIENCE