ACADEMY AWARDS - OSCARS   FEBRUARY 25, 2007

Horticultural Stock Photography, Design and Printing Service for Full Color Business Cards and Postcards, Seasonal Photo Greeting Cards, Event Photography and Oscars Pre-Event Coverage, Celebrities' Charities


WOLFGANG PUCK AND THE GOVERNORS BALL ROOM DECOR

Copyright 1999-2009 4seasons Photography. All rights reserved.

The Oscar goes Organic!

Just when you thought, you've seen it all from Master Chef Wolfgang Puck, he surprises everyone by announcing, that this year's Governors Ball menu will contain all organic ingredients - a first in the history of the Governors Ball Celebration.

"The Governors Ball has always been a very special event for me, and I take great pride in creating the menu. This year's menu will reflect the celebration of the evening along with my passion for locally grown, sustainable and organic ingredients," Puck said. "I want to create a menu that is elegant and exciting, where the main ingredient is the star of the evening and the chef the co-star."

Puck and his team will be serving the Academy's 1,650 guests, which will include Oscar® winners, nominees, presenters and telecast participants.

The menu will feature favorites, including nearly 3,200 miniature Kobe beef cheeseburgers and 4,600 gold-dusted chocolate Oscars®. And yes, even these sweet miniature statuettes will be made from all organic ingredients.

Japanese dishes will be a main part of this year's menu and one specialty is already bound to stand out: Wolfgang Puck's green Wasabi Potato Puree.

Another first will be the preparation of certain foods in the ballroom itself. Puck is enthusiastic about this new feature and hopes that the delicious smell of food in the air will contribute to the relaxing, romantic and cozy ambience.

The wine served that night is a special and unique blend that is only available on Oscar night. Puck himself oversees its creation at the vineyards in Napa Valley.

"Wolf's culinary interpretation of the evening's celebration is always something we aim to match with impeccable service," said Carl Schuster, CEO of Wolfgang Puck Catering. "We hand-select our staff and begin training months prior to the big event to ensure a flawless outcome."

Working in a state-of-the-art kitchen adjacent to the Grand Ballroom at the Hollywood & Highland Center®, Puck will lead a team of chefs, pastry chefs and culinary artists who will be responsible for the cooking, presentation and execution of the evening's menu.

Wolfgang Puck Catering was created in 1998 out of Spago Beverly Hills when Puck and Schuster recognized a national need for high-end restaurant-style catering. Puck's restaurant concepts have been on the creative edge of fine dining for more than two decades.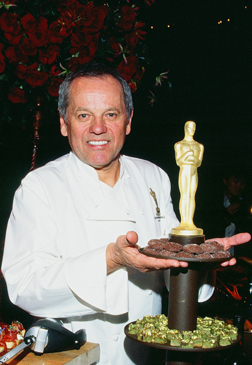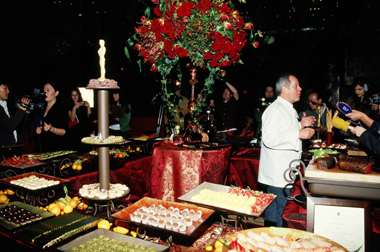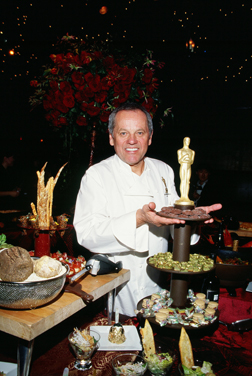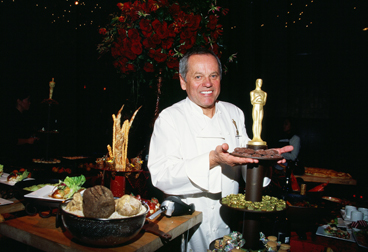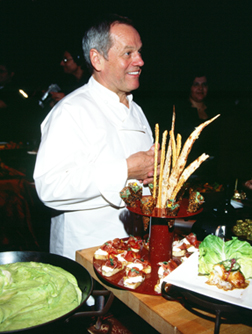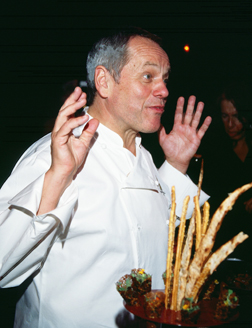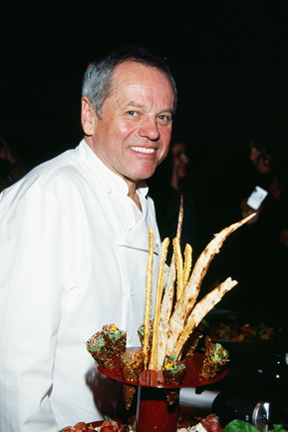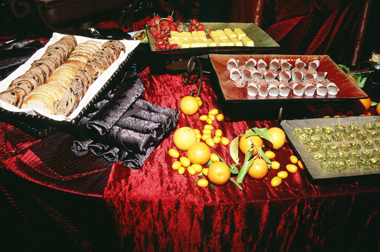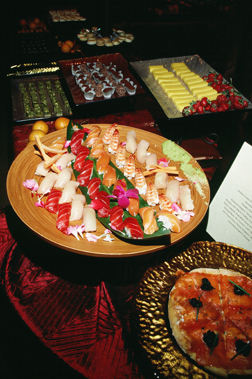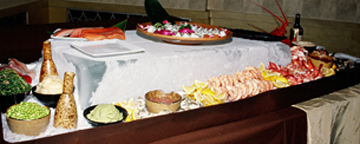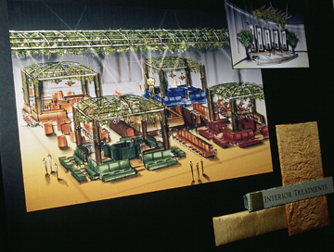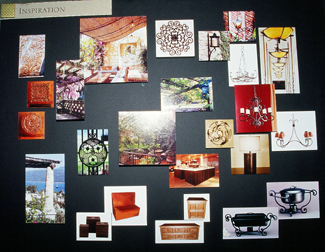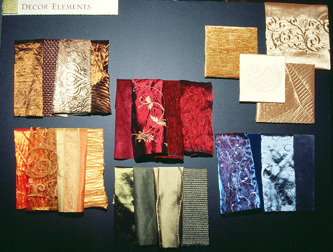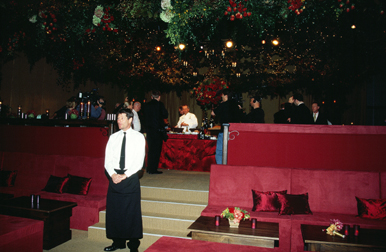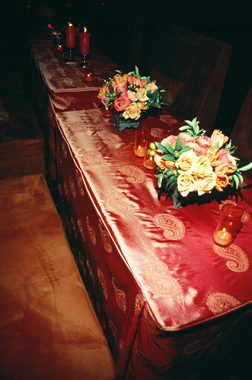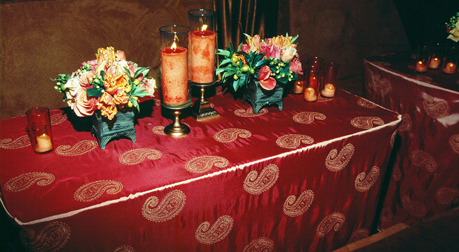 Al Fresco Dining - An Elegant Supper Party

This year's Governors Ball will capture the relaxed intimacy of an elegant supper party, Governors Ball Chair Cheryl Boone Isaacs announced.

"Guests will be able to celebrate with their friends and acquaintances without being confined to assigned tables," said Boone Isaacs. The open format, created by Ball producer Cheryl Cecchetto, will allow the Ball's 1,500 guests to choose among a variety of seating configurations while enjoying the cuisine created specifically for the event by Master Chef Wolfgang Puck.

Guests will enter beneath a wrought iron archway that will span the width of the ballroom. The archway and five decorative pergolas will be lined with a living canopy of woven vines, flowers and ivy evoking the rich and vibrant textures of the Tuscan countryside.

The Academy's Governors Ball will be held in the Grand Ballroom on the top level of the Hollywood & Highland Center®.

Wolfgang Puck's creation of the green

Wasabi Potato Puree (far left) leaves

even the Japanese TV crew speechless!

Eat - Love - Live

A showman in his own right! Wolfgang Puck's exuberance 

and enthusiasm for food, life

and celebration is contagious.

No matter how many times he has to tell his story, it always sounds fresh and exciting.

Wolfgang Puck surrounded by colorful,

delicious dishes and his proudest creation, the Chocolate Oscar®

A mouthwatering Japanese Sushi Buffet presentation

Left:

The concept of this year's Governors Ball room setting and decor.

Below:

Fabric patches and various pictures serve as inspiration for the theme and decor of this year's Governors Ball room.

by SEQUOIA PRODUCTIONS & Wolfgang Puck Catering

* 1,500 Guests

* 900 Staff On-Site

* 350 Culinary Staff

* 150 Technicians

* 40 Musicians

* 6,000 Pieces of Flatware are hand polished

* 500 Bottles of Laurent Perrier Champagne

* 2,000 Bottles of Sterling Wine

* 120 Lighting Color Faders

* ½ Mile of Truss

* 2500 Feet of Truss Cover

* 200 Leko Lights

* 20 Automated Lights

* 1 Mile of Rope Lights

* 30,000 Square Feet of Fabric on Ceiling

* 1,000 Yards Wall Treatment

* 750 Different Arrangements in custom

  designed Wood Boxes and Antiqued

  Stone Containers

* 10,000 Roses Woven through Pergolas

  and on Table Scapes

* Gold Orchids and Rust Calla Lilies

  flown in from Holland

* Smilax Being Cut in the Louisiana

  Bayou for the Pergolas

* Fruits Integrated Throughout including

  Kumquats and Tangerines

* 28,000 Square Feet of Carpet

* 8 Tons of Steel for Scaffolding

* 24,000 Square Feet of Wood Decking

* 3,600 Feet of Timber

* 16,000 Feet of 1" x 3" Recycled Lumber

  to create Columns, Tables and Railings

* 4,050 Feet of 1" x 2" Steel Tubing precision

  curved to Create the Pergolas

* 300 lbs. Smoked Wild Salmon

* 100 lbs. Natural Certified Angus Beef

* 600 ea. Spiny Lobster

* 10 lbs. French Farm Raised Osetra Caviar

* 250 Whole SMART Organic Chickens

* 16 lbs. Black Truffles from Perigord, France

* 10 lbs. White Truffles from Alba, Italy

* 15 Whole Yellowtails

* 150 lbs. Big Eye Tuna

* 25 ea. Thai Snapper

* 100 Dozen Kumamoto Oysters

* 100 lbs. Black Farm-Raised Mussels

* 150 lbs. Little Neck Clams, Farm Raised

* 300 lbs. Jumbo Shrimp

* 550 lbs. Snake River Farms Wagyu Beef

  (American Kobe)

* 25 Whole Wild Striped Bass

* 500 lbs. Organic Valrhona Chocolate

Along with our organic chocolate Oscar® statuettes,

we are proud to offer an entire menu  seafood, meat,

poultry and produce  prepared with natural, organic

and humanely-treated products. Eating well can

also be delicious!

Eat... Love... Live, Wolfgang Puck

* All seafood is sustainable in accordance with

  Seafood Watch

* All meat is natural, growth hormone-free

* All chicken is certified organic

Tray Passed

Lobster Tempura with Vanilla Bean and Pineapple

Mini Prime Cheeseburgers with Remoulade

and Aged Cheddar

Spicy Tuna Tartare in a Sesame Miso Cone

Dungeness Crab Cake with Marinated Tomatoes

and Basil Aioli

Smoked Salmon Pizza with French Farm-Raised

Osetra Caviar and Dill Crème Fraiche

Pizza with White Truffles from Alba, Italy

Smoked Salmon Oscars with French Farm-Raised

Osetra Caviar

Bar Tables

Marinated Olives with Rosemary, Chili and Orange

Homemade Flatbread and Grissini

Assorted Bruschetta

Tapas

Mini Gold-Wrapped Baked Potato with

French Farm-Raised Osetra Caviar and Crème Fraiche

Roasted Pumpkin Squash Ravioli with White Truffles

from Alba, Italy

Potato Gnocchi Gratin with Gorgonzola

Chinois Chicken Salad with Candied Cashews, Crispy

Wontons and Honey Sesame Dressing

Caesar Salad with Parmesan Crostini and

Creamy Garlic Dressing

Chopped Chino Farms Vegetable Salad with

Spiny Lobster and French Farm-Raised Osetra Caviar

Stir Fried Chicken Lettuce Cup with Thai Basil and Pinenuts

Miso Glazed Black Cod with Sticky Rice and Cucumbers

Celery Root-Apple Soup with Black Truffles

Beet and Goat Cheese Napoleon with Toasted Hazelnuts

and Citrus Shallot Vinaigrette

Sushi Station

Assorted Maki: Spicy Tuna, Lobster & Avocado,

California, Smoked Salmon, and Vegetable

Assorted Nigiri: Big Eye Tuna, Yellowtail, Snapper,

Salmon, Uni, Unagi and Shrimp

Edamame, Marinated Cucumbers, and Seaweed Salad

with Sesame Dressing

Seafood Station

Spiny Lobster, Jumbo Prawns, King Crab Legs,

Kumamoto Oysters, Farm-Raised Mussels and

Littleneck Clams

Horseradish Cocktail Sauce, Mustard and

Red Wine-Ginger Mignonette

Buffet

Grilled Snake River Farms "Kobe" Beef with

Bordelaise Sauce

Wasabi Potato Puree

Roasted Organic "Smart" Chicken Breast

Risotto with Black Truffles from Perigord, France

Spiny Lobster Shanghai Style with Crispy Spinach

Striped Bass "En Croute" with Sauce Choron

Stir Fried Chino Farms Organic Vegetables

Assorted Organic Breads

Dessert

Oscar's Sweet Extravaganza

including Meyer Lemon Bars, Valrhona Organic

Chocolate Fudge, Hazelnut Marjolaine, McGrath Farm

Strawberry Baked Alaska, Fuji Apfelstrudel, and

Medjool Date Toffee Cake

Photographer was on assignment for "German World Magazine" - All photos taken with prof. equipment

15 YEARS OF PHOTOGRAPHY AND DESIGN EXPERIENCE