ACADEMY AWARDS - OSCARS   FEBRUARY 25, 2007

Horticultural Stock Photography, Design and Printing Service for Full Color Business Cards and Postcards, Seasonal Photo Greeting Cards, Event Photography and Oscars Pre-Event Coverage, Celebrities' Charities


BEST FOREIGN LANGUAGE FILM - WINNER AND NOMINEES

Copyright 1999-2009 4seasons Photography. All rights reserved.

"Film is the Esperanto of our World"

                             Guillermo del Toro, Mexico

Once again the popular Foreign Language Film Symposium, taking place one day before the Oscars, attracts a large audience and the Samuel Goldwyn Theater at the Academy of Motion Picture Arts and Sciences is packed with nominated cast and crew members, media representatives, jury members, distinguished guests and fans from all over the world.

This year marks the strongest year ever, with 61 countries submitting their film, each viewed in full length by a 300 member voting board. A new voting system was introduced and declared a pre-final selection of 9 films, which included the Swiss entry "Vitus" by Swiss director Fredi Murer. We congratulate Fredi Murer for this outstanding accomplishment!

One thing this year's final selection has in common is, that a SECRET runs in all nominated films!

But the making of these films is usually as fascinating and interesting as the films themselves.

From Deepa Mehta, the India-born writer/director from Toronto, Canada, we hear about the shocking and horrific experiences she and her crew encountered during the making of the film "Water".

In 2000 she started filming in India but then production was brutally shut down. Before making a film in India, scripts have to be submitted to the government for approval in order to ensure that there's nothing offensive to India in it. The Hindu fundamentalist government at the time gave her permission to shoot. But 6 weeks after pre-production mobs, connected to the government, started attacking the set in the name of Hinduism. Production was shut down after 2 days of filming due to death threats being spoken against cast and crew, the set and equipment being burned and everything being thrown into the river Ganges. The total loss was estimated at more then half a million dollars. It was furthermore very difficult for the actresses to find work after the shut down, since their hair had already been shaved off. It took Deepa four years to get over her anger and she finally re-created the sets for "Water" in Sri Lanka with an entirely new cast and giving the script a different name. Since the young girl in the film doesn't speak Hindi and Deepa doesn't speak Sinhalese an interpreter would translate between the two. But the girl turned out to be an amazing talent - she learned the entire script phonetically and knew everyone elses lines too!. She had never acted before, never even done theatre, but her performance is stunning.

Despite the Congress Body banning the film in India and extremists now calling her film "anti Gandhi", the film's premiere is set to take place in India on March 9, 2007 thanks to an independent distributor. As much as the talented and courageous filmmaker is thrilled about the screening in her native country, she will not attend the event.

Being asked, if she could imagine directing an U.S. project, Deepa Mehta admits, that she cannot imagine directing someone else's script. She prefers writing her scripts at the kitchen table in her home where the sounds and noises of "real life" surround and inspire her.

The idea for the film "Pan's Labyrinth" was born during the days after the tragic events of September 11, 2001. Guillermo del Toro was promoting a new movie in Los Angeles on September 10, 2001 - He recalls: "The events of 9-11 changed my life. To me, this date marks the 'Death of Innocence', but also a chance to 'create rebirth'. I felt the urge to make a fairytale for adults, because adults are more in need of fairytales than children."

In order to be as true as possible to the General Franco era, del Toro shot the film in Spain, but with a Mexican crew.

At some point, Guillermo del Toro was offered the project of "Harry Potter 3" but he declined because "these kids were way too happy". He was also offered "The Chronicles of Narnia - The Lion, the Witch and the Wardrobe" but dismissed that project as well because "the story was too catholic". He adds: "I believe in childhood and old age - Youth is too confusing."

Those of you who've met Guillermo del Toro will agree with me, that the man is quite a character. His brilliant wit and his brutally honest and sarcastic humor is most entertaining and enlightens audiences and interviewers alike.

Susanne Bier, the acclaimed Danish writer and director, describes how she tackles the process of making a movie. Her film "After the Wedding" deals with prejudice, which seems to be a big issue in Scandinavia. Her film goes behind the scenes of the so-called "rich vs. poor society". A trademark of Bier's films is the extreme close-up. She insists, that a close-up of a pair of eyes, for example, can add a whole new dimension and a different dynamic to a scene.

Susanne Bier's first U.S. project "Things we lost in the Fire" is currently in post-production. The film, a DreamWorks production starring Halle Berry, Benicio Del Toro and David Duchovny, is set for release on October 19, 2007.

Florian Henckel von Donnersmarck reveals, that his film "The Lives of Others" was a very low-budget production and that its total cost was only 2 million dollars, a comment the audience acknowledges with applause. He also admits, that he could not find a distributor for the script or the film due to the "hot" topic. "If it was written as a comedy, chances of support would have been better", he adds, but the director refused to change his vision of the film. Eventually German Buena Vista offered its support, ignoring anyone's concerns or critiques.

When asked about accuracy and authenticity the director explains, that he had a former Stasi on the set as a consultant. With this statement the German director clearly gets the attention of the audience, and he quickly adds, that he did not reveal the full content of the script to his consultant, in fear that he would refuse to cooperate. Of course, the former Stasi and his wife (a former Stasi too) attended the premier of the film and Florian nervously awaited their commentary, which came in form of a letter a few days later, stating that the film was factually accurate but that they could not understand, why the Stasi-character was portrayed as a traitor!!! (...so much for indestructible pride!)

The director also wrote the translation for the film, explaining: "I feared, that nuances will be lost in translation if I didn't do it myself." At this point, Guillermo del Toro adds, that he too, did his own translation for the same reasons.

These comments spark a discussion among the filmmakers whether films should be dubbed or screened in their original language with subtitles. Guillermo insists, that dubbing destroys the identity of the characters and he compares it with the altering of a famous painting. "The purity of art is most important" he concludes.

The Directors of the Oscar nominated Best Foreign Language Films

from left to right:

Deepa Mehta - Canada

Susanne Bier - Denmark

Florian Henckel von Donnersmarck - Germany

Guillermo del Toro - Mexico

Rachid Bouchareb - Algeria

was not able to make it in time for this event

CONGRATULATIONS  ON  YOUR  OSCAR !

THE LIVES OF OTHERS /

DAS LEBEN DER ANDEREN

GERMANY

directed by

Florian Henckel

von Donnersmarck

CAST

Martina Gedeck

Ulrich Muehe

Sebastian Koch

Ulrich Tukur

Thomas Thieme

Hans-Uwe Bauer

AFTER

THE WEDDING

DENMARK

directed by Susanne Bier

CAST

Mads Mikkelsen, Rolf Lassgard,

Sidse Babett Knudsen,

Stine Fischer Christensen,

Christian Tafdrup, Neeral Mulchandani

WATER

CANADA

directed by Deepa Mehta

CAST

Sarala, Lisa Ray, John Abraham,

Seema Biswas, Manorma, Vinay Pathak

DAYS OF GLORY /

INDIGENES

ALGERIA

directed by Rachid Bouchareb

CAST

Jamel Debbouze, Samy Naceri,

Roschdy Zem, Sami Bouajila,

Bernard Blancan, Mathieu Simonet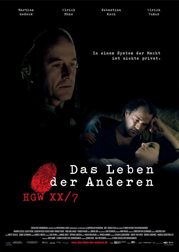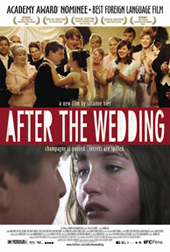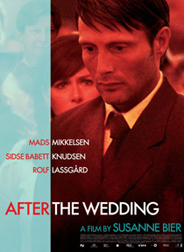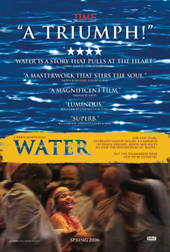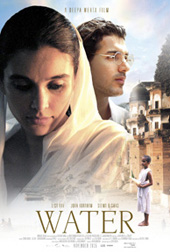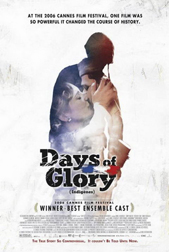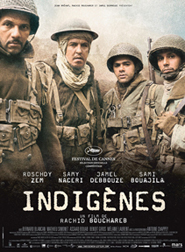 PAN'S LABYRINTH

MEXICO

directed by Guillermo del Toro

CAST

Ivana Baquero, Sergi Lopez, Maribel Verdu, Doug Jones,

Alex Angulo, Manolo Solo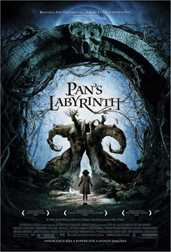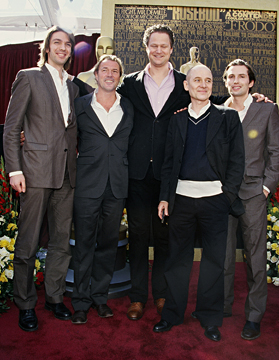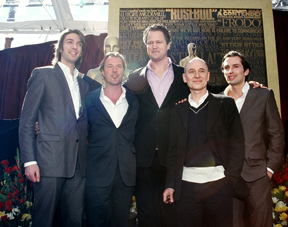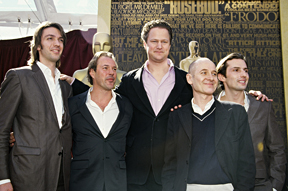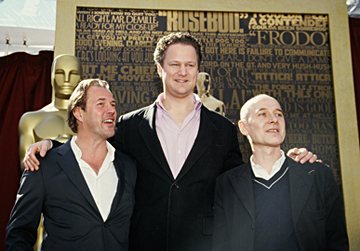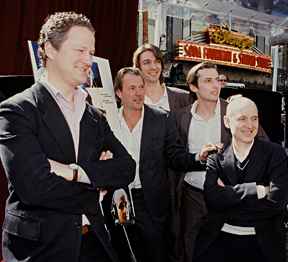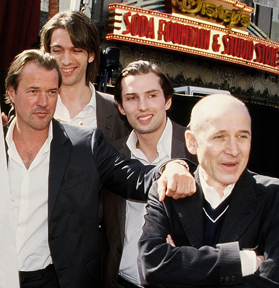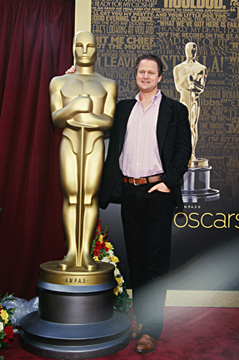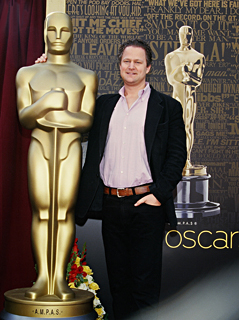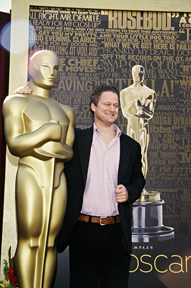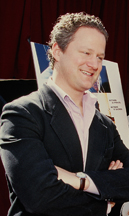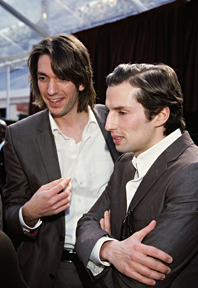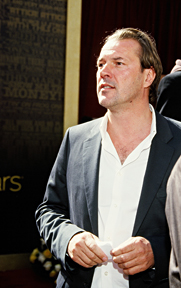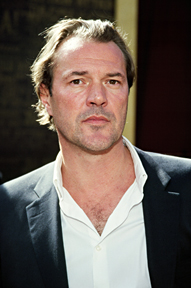 They have every reason to smile!

Writer/Director Florian Henckel von Donnersmarck (center) with his two lead actors Sebastian Koch (left) and Ulrich Muehe (right)

Producers

Max Wiedemann (left)

and Quirin Berg (right)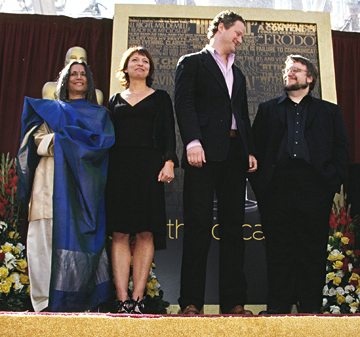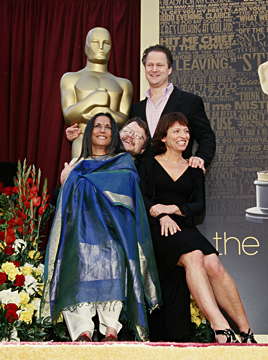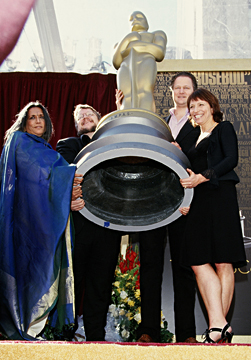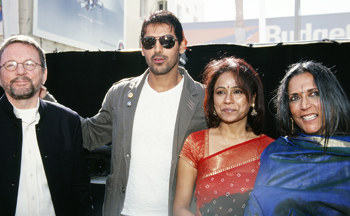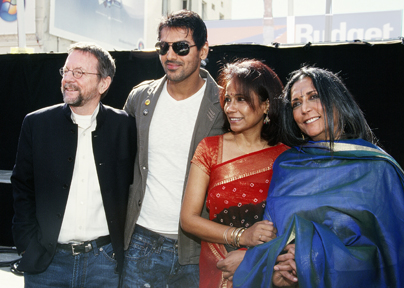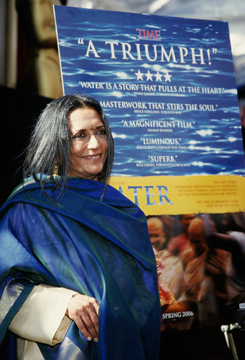 Writer/Director Deepa Mehta poses

with producer and personal partner

David Hamilton (left),

actor John Abraham (center)

and actress Seema Biswas (right)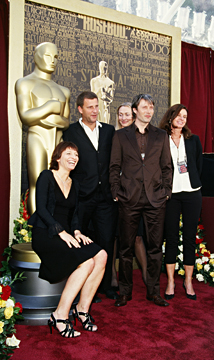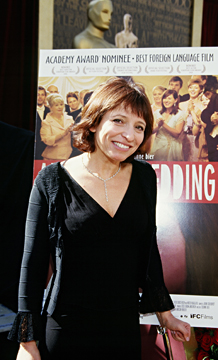 Lead actor Mads Mikkelsen

Recognize him?

Yep, it's the "bad guy" from the

latest James Bond 007 movie,

Casino Royale

From left to right:

Director Susanne Bier

Screenwriter Anders Thomas Jensen

Producer Sisse Graum Jorgensen

Lead Actors Mads Mikkelsen and

Sidse Babett Knudsen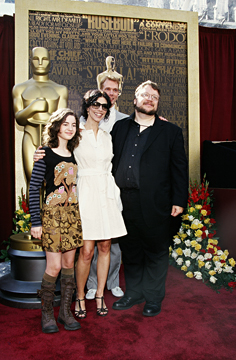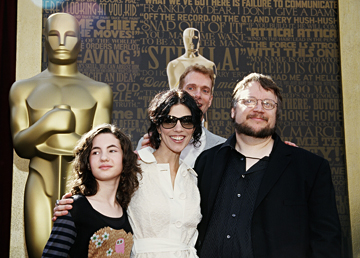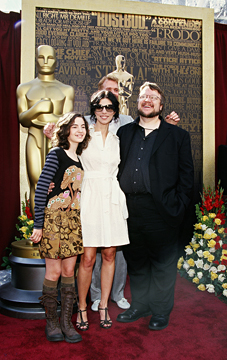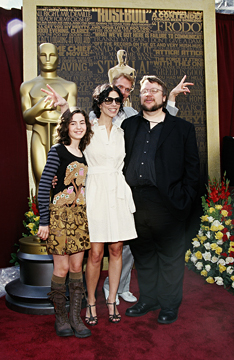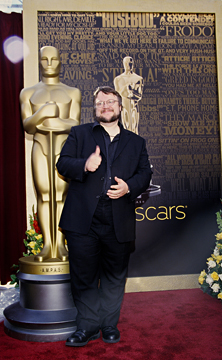 Writer/Director Guillermo del Toro with his young lead actress Ivana Baquero (left), Maribel Verdu (center), and Doug Jones "the plastic man" in the back.

Great accomplishment!

The film was nominated for 6 Academy Awards and won 3

Below:

Doug Jones mimicking "The Pale Man"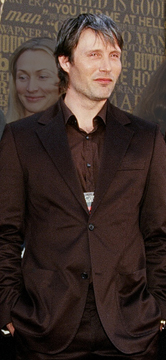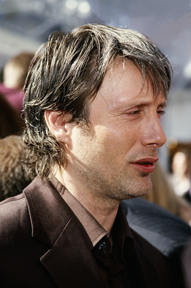 Photographer was on assignment for "German World Magazine" - All photos taken with prof. equipment

15 YEARS OF PHOTOGRAPHY AND DESIGN EXPERIENCE