ACADEMY AWARDS - OSCARS   MARCH 5, 2006

Horticultural Stock Photography, Design and Printing Service for Full Color Business Cards and Postcards, Seasonal Photo Greeting Cards, Event Photography and Oscars Pre-Event Coverage, Celebrities' Charities


BEST FOREIGN LANGUAGE FILM - WINNER AND NOMINEES

Copyright 1999-2009 4seasons Photography. All rights reserved.

It is usually at the Foreign Language Film Symposium, taking place the day before the Academy Awards Ceremony, that we learn more about the making of these remarkable films. This great event is usually sold out the day it's being announced and for those who are lucky enough to get a ticket are in for a real treat. 5 out of 54 films that were submitted to the Academy of Motion Picture Arts and Sciences from 54 different countries have been nominated for Best Foreign Language Film. At this event the directors "tell it all".

We learn, that "Paradise Now" director Hany Abu-Assad and his cast and crew worked under the most dangerous and life-threatening circumstances and were often forced to interrupt filming due to the war going on between Israel and Palestine. Furthermore the film project was not well received by many Palestinian extremists who did not want to be portrayed as human beings suddenly doubting their mission, but as heroes. It even came to the point, where Hany's location manager was kidnapped and he was forced to stop production until the safe return of his crew member. But thanks to the collaboration between Israeli and Palestinian crew, the film could be completed.

Hany also describes how scary the topic of suicide bombing was to him and that he initially didn't know anything about it. Gathering that kind of information turned out to be quite a challenge. He also made his lead actors work at the mechanic shop for two weeks so they would get the feel for "fixing cars".

We also learn, how director Marc Rothemund of "Sophie Scholl - The Final Days", discovered unpublished documents, records and detailed transcripts from the interrogation, trial and execution of Sophie Scholl by the Gestapo and therefore was able to make a most authentic film about the 21-year-old member of the "White Rose" Resistance Group. And to be even more accurate he consulted the weather report from those six days in February of 1943.

"Tsotsi" director Gavin Hood enthusiastically describes the challenge of finding his lead actors, since he decided to use original South African language in his film. As for Hany's Arabic spoken "Paradise Now", it was most important to Gavin Hood, that his actors were able to convey their feelings with their eyes, facial expressions and body language, and tell the story with as few words as possible.

Often life imitates art and as it happens in the movie, his cinematographer got car-jacked on the way to the airport before flying out to Los Angeles. In the car was his passport and his ticket. While the rather aggressive gang members searched the car for valuables, a rather soft-spoken guy kept an eye on him. At some point he asked the guy, if he had seen the film "Tsotsi" and the boy responded, that he had and that he liked the film. He then apologized to the cinematographer for the other guys' aggressive behavior and promised that they would not harm him. Later that day the police found the car including the passport and the flight ticket and so he was able to join his fellow crew members to the Oscars.

French director Christian Carion, whose film "Joyeux Noel" is based on a true story that happened during World War I, was not given permission to film the war scenes in France's military zones and therefore chose to go to Romania instead, which turned out to be a blessing in the end and beneficial to the film. When asking the military for the reason of their decision, he was told, that they would not support any kind of documentation on rebellion. The DVD will also tell us about the true story of the "Spy Cat".

Cristina Comencini tells us about the evolving of the "New Italian Cinema" that now dares to address hot topics, and as described in her book and her film "Don't tell", child molestation within the family.

Despite the obstacles that many of these directors faced during the making of their films, they never stopped believing in their project. And with the support of their producers, cast and crew, they fought, protected and defended it with all their passion and courage and it is that determination, for which their films have now been honored with an Oscar nomination and have received numerous prizes and awards all over the world.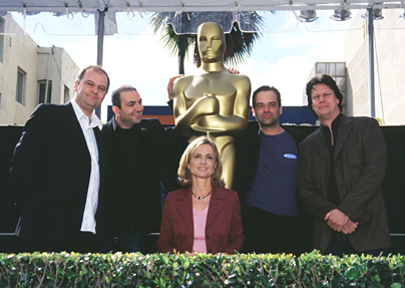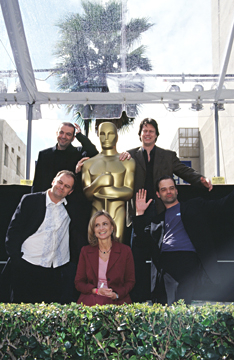 Directors

of the Oscar nominated

Best Foreign Language Films

from left to right:

Christian Carion

France

Hany Abu-Assad

Palestine

Cristina Comencini

Italy

Marc Rothemund

Germany

Gavin Hood

South Africa

Pictures left and right:

Directors are encouraged

to "play" with Oscar and

have some fun...!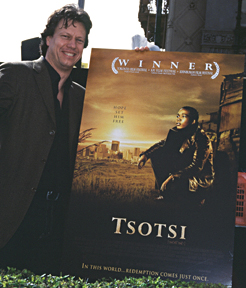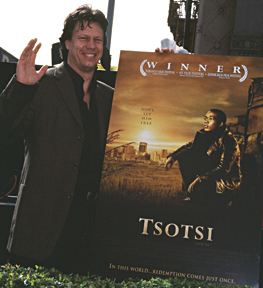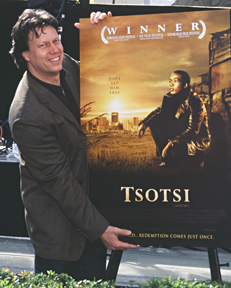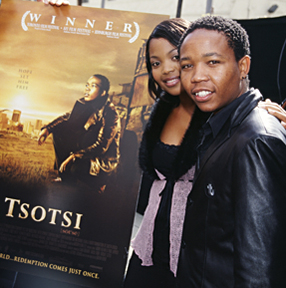 CONGRATULATIONS  ON  YOUR  OSCAR !

Director

Gavin Hood

with his

lead actors

Presley Chweneyagae

and

Terry Pheto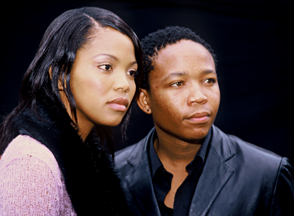 TSOTSI

SOUTH AFRICA

directed by Gavin Hood

CAST

Presley Chweneyagae,

Terry Pheto,

Kenneth Nkosi,

Mothusi Magano,

Zenzo Ngqobe,

Zola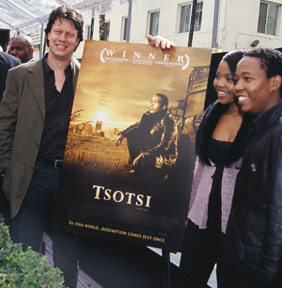 PARADISE NOW

PALESTINE

directed by Hany Abu-Assad

CAST

Kais Nashef, Ali Suliman,

Lubna Azabal, Amer Hlehel,

Hiam Abbass, Ashraf Barhoum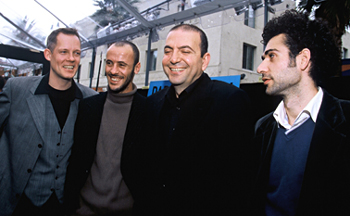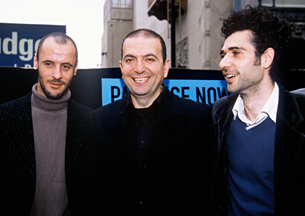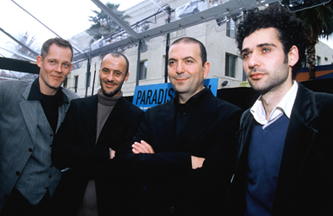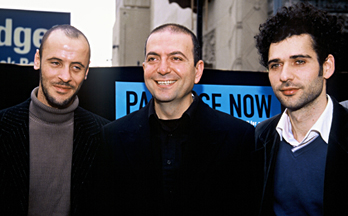 Director Hany Abu-Assad (center)

with his lead actors

Ali Suliman (left) and Kais Nashef (right)

From left to right:

Co-Screenwriter & Producer Bero Beyer,

Ali Suliman, Hany Abu-Assad, Kais Nashef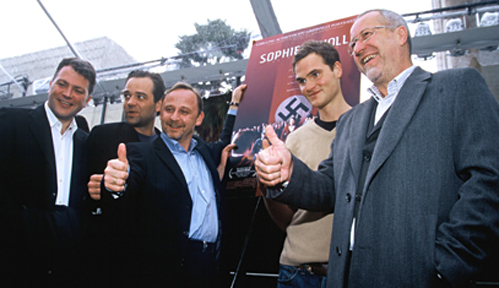 SOPHIE SCHOLL - THE FINAL DAYS

GERMANY

directed by Marc Rothemund

CAST

Julia Jentsch, Fabian Hinrichs, Alexander Held, Johanna Gastdorf, Andre Hennicke, Florian Stetter,

Johannes Suhm, Maximilian Bruckner, Willi Jung, Jorg Hube, Petra Kelling, Franz Staber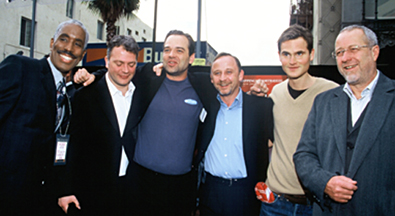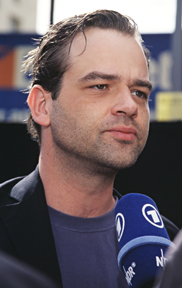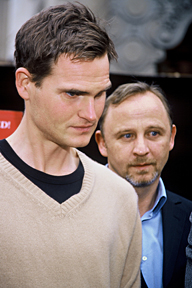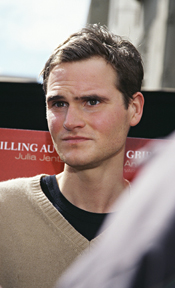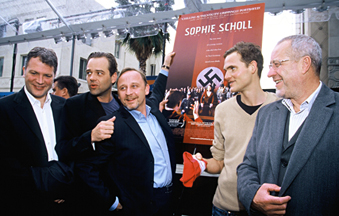 From left to right: Producer Sven Burgemeister, Director Marc Rothemund, Actor Alexander Held, Actor Fabian Hinrichs, Screenwriter & Producer Fred Breinersdorfer

Actors Fabian Hinrichs (left) and Alexander Held (right)

JOYEUX NOEL

FRANCE

directed by Christian Carion

CAST

Diane Kruger, Benno Furmann, Guillaume Canet,

Gary Lewis, Daniel Bruehl, Dany Boon, Alex Ferns,

Steven Robertson, Bernard Le Coq, Lucas Belvaux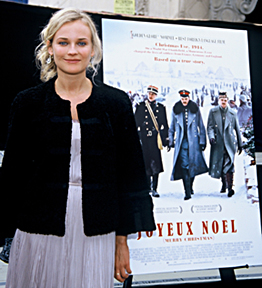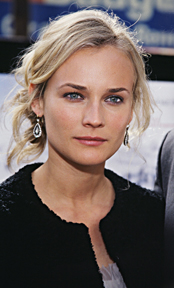 DON'T TELL

ITALY

directed by Cristina Comencini

CAST

Giovanna Mezzogiorno, Stefania Rocca, Alessio Boni,

Angela Finocchiaro, Luigi Lo Cascio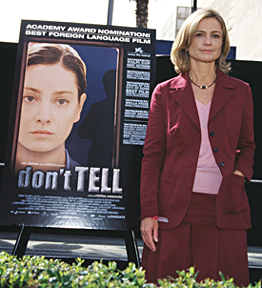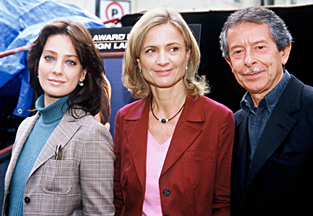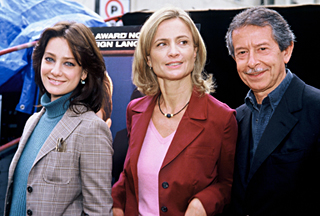 Director Cristina Comencini (center) with

actress Giovanna Mezzogiorno (left) and

producer Riccardo Tozzi (right)

Photographer was on assignment for "German World Magazine" - All photos taken with prof. equipment

15 YEARS OF PHOTOGRAPHY AND DESIGN EXPERIENCE